Tony Snow, Former Bush Spokesman, Dies At 53
Tony Snow, Former Bush Spokesman, Dies At 53
Chip Somodevilla/Getty Images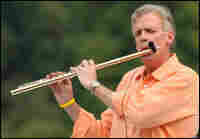 Chris Kleponis/Getty Images
Let it be known, Tony Snow, who died Saturday at 53, was probably the first — and to date the only — White House press secretary who played a raucous blues flute.
Snow lived life easily and enjoyed it, too. His genial presence accompanied his deep conservatism, whether on television talking about the Valerie Plame CIA leak case or fencing with reporters from behind the press secretary's lectern.
Snow was an editorial writer and talk show host before becoming President Bush's third press secretary. He stepped down in late summer last year amid a recurrence of colon cancer.
Snow first joined the White House staff under Bush's father, George H. W. Bush, in 1991 as a speechwriter. He then became a newspaper and NPR commentator, where he was a critic of President Clinton.
In this puckish NPR commentary from 1993, he urged a balance between work and life:
"For seven months the White House has looked like a college campus at exam week, with kids gobbling No Doz like candy, cramming facts and figures into mushy tired skulls, and surrendering the ability to perform any mental function higher than rote memorization."
Snow knew something about facts and figures. He grew up in Ohio, the son of a high school teacher and an inner-city nurse. After graduating from Davidson College in North Carolina, he taught school in Kenya. He later became an editorial writer at several papers, before becoming the editorial page editor of the conservative Washington Times.
In 1996, Fox News made its debut and so did Snow — as the moderator of its Sunday issues show, a position he held for six years. In 2006, Bush named him to replace Press Secretary Scott McClellan, whose credibility was shot with reporters when it was revealed he had been misled into defending White House aides Karl Rove and Lewis "Scooter" Libby on the Plame leak case.
Snow was a far more assertive and comfortable presence — a conduit for the president to conservatives, but also to his former peers in the press corps. In an interview with NPR's Steve Inskeep on Morning Edition, Snow bristled at the idea that he was holding anything back from reporters.
"My view is a press conference actually ought to be a place where we transmit as much information as we can and make news," he told Inskeep. "And I understand that everybody out there has the same objective, which is to try to write news stories and get good information. Quite often the drama in the pressroom has to do with reporters knowing that there is a question that the press secretary cannot answer, but asking it anyway."
Snow had been diagnosed with colon cancer before going to work at the White House, but in early 2007, a growth in his stomach proved cancerous. After months of treatment he announced he was returning to private life.
Snow died at 2 a.m. at Georgetown University Hospital in Washington, according to Fox News. He is survived by his wife, Jill Ellen Walker, and three children.