Tony Snow, Delighted In Arguing Conservative View
Tony Snow, Delighted In Arguing Conservative View
Former White House press secretary Tony Snow died early Saturday at age 53. NPR's Juan Williams, who had appeared with Snow as a commentator on Fox News Channel, talks about his friend and former colleague.
ANDREA SEABROOK, host:
Tony Snow died early this morning. He was a well-known conservative commentator, a Fox News host, and the in May of 2006, President Bush made Tony Snow his press secretary. He served in the White House until last fall when he resigned suddenly. His colon cancer had returned.
NPR's Juan Williams is here. And, Juan, you sat next to Tony Snow as a pundit on his talk shows. You sat across from him as a journalist in the White House press room. Tell us about the Tony Snow you knew.
JUAN WILLIAMS: Well, first of all, I knew him as a friend and I must tell you as a friend, it's interesting. Tony was 53; I'm 54. I went to Haverford and was a philosophy major; and he went to Davidson and the University of Chicago as a philosophy major and he loved to argue. So, Tony delighted in being the conservative perspective on any issue and wanted to explore it and argue against, well, me and the likes of me.
(Soundbite of laughter)
WILLIAMS: And so we would have these fireworks explosions, but the fact is that Tony Snow was also one of these guys who would go to the Orioles and the baseball game and sit there and people would say what are you two doing sitting together, you know?
SEABROOK: President and Mrs. Bush sent out a statement today, and part of it reads: it was a joy to watch Tony at the podium each day. He brought wit, grace and a great love of country to his work. His colleagues will cherish memories of his energetic personality and relentless good humor.
WILLIAMS: No doubt about it. And remember that he was a speechwriter for the first President Bush and when the returned to the White House for the current President Bush, I think he transformed the whole press room environment.
SEABROOK: Mm-hmm.
WILLIAMS: Because you went from Scott McClellan, who was really sort of dug in, defensive, very limited, didn't smile, to a performer in Tony Snow. I mean, this is a guy who not only was taking the offensive and challenging the press corps but a guy who would go out and raise money for conservative causes and conservative candidates.
Press secretary never had done that. He was like a TV personality suddenly behind the podium and I think it helped President Bush in terms of trying to gain some traction at a very difficult time.
SEABROOK: Well, that made him kind of a lightning rod too, didn't it?
WILLIAMS: Oh, without a doubt. Because then people would say that Tony didn't have his facts quite right, because he's on the offensive and so suddenly he became much more of a target.
SEABROOK: And let's remember he came in a very difficult time in politics in the White House. The war in Iraq was a mess, the president was about to lose the Republican Congress.
WILLIAMS: Exactly right, yeah. That's why I say being on the offensive. He delighted the conservatives. After Tony left the White House - he had the first operation for the colon cancer back in 2007. And when he left, he went out as a speaker and, you know, was thinking about writing a book. And people would relate to him on two levels.
One is a cancer survivor, but secondly they'd say here is a conservative hero. Here's somebody who's not afraid to make the case for conservatives in the United States even in the midst of all the Bush turmoil and travail after the war in Iraq.
SEABROOK: Tony Snow, he was 53 years old. He died today. He is survived by his wife and three children. Juan, thanks very much for coming in and speaking with us.
WILLIAMS: You're welcome, Andrea.
SEABROOK: I want to play one last clip now. This is Tony Snow just when he was leaving the White House last fall. Here's what he told Bill O'Reilly of Fox News.
Mr. TONY SNOW (Late White House Press Secretary): Why sit around and mope, bemoan your fate? Go ahead and get in there and while you're at it enjoy every moment that you're alive.
(Soundbite of music)
NPR transcripts are created on a rush deadline by Verb8tm, Inc., an NPR contractor, and produced using a proprietary transcription process developed with NPR. This text may not be in its final form and may be updated or revised in the future. Accuracy and availability may vary. The authoritative record of NPR's programming is the audio record.
Tony Snow, Former Bush Spokesman, Dies At 53
Tony Snow, Former Bush Spokesman, Dies At 53
Chip Somodevilla/Getty Images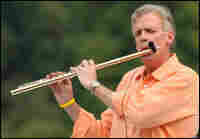 Chris Kleponis/Getty Images
Let it be known, Tony Snow, who died Saturday at 53, was probably the first — and to date the only — White House press secretary who played a raucous blues flute.
Snow lived life easily and enjoyed it, too. His genial presence accompanied his deep conservatism, whether on television talking about the Valerie Plame CIA leak case or fencing with reporters from behind the press secretary's lectern.
Snow was an editorial writer and talk show host before becoming President Bush's third press secretary. He stepped down in late summer last year amid a recurrence of colon cancer.
Snow first joined the White House staff under Bush's father, George H. W. Bush, in 1991 as a speechwriter. He then became a newspaper and NPR commentator, where he was a critic of President Clinton.
In this puckish NPR commentary from 1993, he urged a balance between work and life:
"For seven months the White House has looked like a college campus at exam week, with kids gobbling No Doz like candy, cramming facts and figures into mushy tired skulls, and surrendering the ability to perform any mental function higher than rote memorization."
Snow knew something about facts and figures. He grew up in Ohio, the son of a high school teacher and an inner-city nurse. After graduating from Davidson College in North Carolina, he taught school in Kenya. He later became an editorial writer at several papers, before becoming the editorial page editor of the conservative Washington Times.
In 1996, Fox News made its debut and so did Snow — as the moderator of its Sunday issues show, a position he held for six years. In 2006, Bush named him to replace Press Secretary Scott McClellan, whose credibility was shot with reporters when it was revealed he had been misled into defending White House aides Karl Rove and Lewis "Scooter" Libby on the Plame leak case.
Snow was a far more assertive and comfortable presence — a conduit for the president to conservatives, but also to his former peers in the press corps. In an interview with NPR's Steve Inskeep on Morning Edition, Snow bristled at the idea that he was holding anything back from reporters.
"My view is a press conference actually ought to be a place where we transmit as much information as we can and make news," he told Inskeep. "And I understand that everybody out there has the same objective, which is to try to write news stories and get good information. Quite often the drama in the pressroom has to do with reporters knowing that there is a question that the press secretary cannot answer, but asking it anyway."
Snow had been diagnosed with colon cancer before going to work at the White House, but in early 2007, a growth in his stomach proved cancerous. After months of treatment he announced he was returning to private life.
Snow died at 2 a.m. at Georgetown University Hospital in Washington, according to Fox News. He is survived by his wife, Jill Ellen Walker, and three children.