It's Not Just What You Say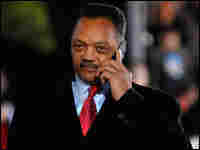 When the Rev. Jesse Jackson made scathing, off-camera — but still on-mike — remarks about Sen. Barack Obama and his Father's Day speech on absentee fathers at a predominately African-American church in Chicago, there was a lesson in the incident for both the preacher and the Democratic presidential candidate, according to Eric Easter, who writes about politics, culture and technology for EbonyJet.com.
Easter explains why "it's not just what you say, it's where, how, when and to whom that matter as well." He also talks about why he thinks Jackson was right — even if the venue (FOX News) was not.
Jesse Jackson: 'The Message Remains The Same'

The Rev. Jesse Jackson has apologized to Sen. Barack Obama for making "crude and hurtful" comments about the Democratic presidential contender during the taping of a Fox News program on Sunday.
In an interview with Farai Chideya, Jackson acknowledged he "said something pejorative and embarrassing personally" in describing wanting to cut off Obama's testicles, but added, "the message remains the same."
And what is that message?
"That we need a broader message to include the crisis of jobs, guns, drugs ... and we need a broader message to restructure our economy to put them back to work," Jackson said. "That's my passion, and my passion for this campaign remains undaunted, and I look forward to his success. And I'll work for him continuously this fall in the campaign."
Jackson was also recorded saying, "Barack's been talking down to black people," regarding a recent spate of speeches about personal accountability that Obama has delivered to black audiences.
Obama, through a campaign spokesman, accepted Jackson's apology.
"As someone who grew up without a father in the home, Senator Obama has spoken and written for many years about the issue of parental responsibility, including the importance of fathers participating in their children's lives," the statement read. "He of course accepts Reverend Jackson's apology."
Farai Chideya spoke with Jackson on Wednesday afternoon — after the news about the remark was leaked to the press, but before Fox News broadcast it.
The following is a transcript of their conversation:
Jesse Jackson: The reason I chose to make a statement today in public: I have real passion for this campaign I have supported, since before Barack even announced, for example. And I do not want a sound bite out of context to interrupt the broader conversation and the very positive message he has going in our nation. What I said was that some of the messages aimed at the black church could be considered talking down to blacks. My appeal really was to the moral tones of the message and to deal with personal and moral responsibility of black males, but to deal with the collective moral responsibility of government and the public policy ... the private/public dialogue. And so I want to get in front of this, because I do not want any diversion from his record-setting positive campaign.
Farai Chideya: I want to make sure that I have things straight. According to the news reports that we have at the time we are talking to you, you used a term for the male anatomy in describing ...
That was what I was talking about with Dr. Reed Tuckson, and he asked about the messages that I aimed at the black churches, which had a lot to do with moral responsibility. And I said they must not be seen to be talking down to blacks or to blacks only. And then I said something pejorative and embarrassing personally. But the message remains the same: That we need a broader message to include the crisis of jobs, guns, drugs ... and we need a broader message to restructure our economy to put them back to work. That's my passion, and my passion for this campaign remains undaunted, and I look forward to his success. And I'll work for him continuously this fall in the campaign.
But do you think his Father's Day speech was a "Sister Souljah moment," where he essentially criticized poor and working-class black people to please white voters?
Well, some have interpreted it that way, and I was concerned it would not be interpreted that way. For example, in the black community, the infant mortality rates are highest. The life expectancy shorter. The most underfunded schools, the most teachers of children on degrees of experience, 2.3 million Americans in jail and a million are black, in part, through sentencing disparities. The whole range of what Dr. King would call structural inequalities that must be addressed. And while the moral lesson is appropriate — I give it all the time myself — we are going to have to invest in the abandoned rural and urban America in order to break these disparity gaps and put all Americans on an even playing field.
Many of the smartest people in the world, the most engaged people in the world, are also linguistically colorful. And sometimes you have to backtrack a bit. On that note, have you called the senator or spoken with the senator since ...
I've spoken with his staff. Our friendship remains intact, and I do not want anything that was said in any guise to distract from his message, and I support this campaign.
Now, during the '84 campaign you called New York "Hymietown," while speaking with a black Washington Post reporter. And you got a lot of heat for that. So this, I understand, occurred when you spoke when you thought a mike was closed. So what have you learned about interacting with us in the media from all this stuff?
Well, you do your job — and I respect that — and I do mine. And for the most part, we try to keep the hope alive. We try to make the country better. And we are not going to lose that message. And what a great moment, a redemptive moment in America, a rehabilitative moment. And I'm glad to be a part of it. And I took the four-year race on Barack as running a fast last lap and moving on the victory.
Finally, when you think about your role in the 2008 election how would you describe it?
Work on voter registration, for the mobilization, education, coalition-building. Work together to help end the war in Iraq and Afghanistan. Reinvest in America to convince young America that they really do have the power to change the course of the country. We must have a renewed multiracial, multicultural coalition. These are the things that I revolve my work around and I intend to be pushing them real hard this um, this summer and fall.
And do you think you'd go out on the stump with him if he wanted you to, or does he want you to?
Whatever he wants. You know, he must make that decision. You know, as to who, you know, that campaign, you know, you have consultants. You have advisors. You have surrogates and you have supporters. I'm a strong supporter, and I've been since before he announced. And I will continue supporting because I believe he represents the right side of history for all of America and really for the world.