America's Romance With Rails May Rise
Listen to this 'Talk of the Nation' topic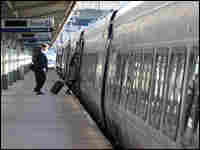 As gas prices rise and airlines cut flights, destinations and services — as well as raise ticket prices, it's not surprising that more and more Americans are choosing to travel by train. Last year in fact, Amtrak says it carried some 25 million passengers, and they're even busier this year.
Catherine Watson often rode the rails when she was travel editor of the Minneapolis Star Tribune,, but she rarely did it while she was in the United States. Recently, she decided to try Amtrak on a trip from Minnesota to New Mexico. She explains why there's reason to fall back in love with the rails.
Watson's story on her Minnesota to New Mexico adventure entitled, "Romance of the Rails," appeared in the July 6 issue of the San Francisco Chronicle.