'Vote For Me, Al Franken'
'Vote For Me, Al Franken'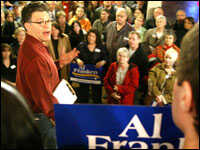 Former Minnesota Governor Jesse Ventura's decision not to run for the Senate means that comedian Al Franken won't be facing another unconventional candidate in his race to defeat Republican incumbent Norm Coleman.
But he might face a more conventional Democratic primary battle from Priscilla Lord Faris, a member of a well-known Minnesota political family. Lord Faris was a supporter of Franken's, who even donated to the comedian's campaign, but now says that his recent poll numbers indicate he might not be able to win in November.
The volatile maneuvering here is not just the result of the idiosyncrasies of Minnesota politics, but also of the unusual background of Franken himself, known more as a sketch comedian and political commentator than as a mainstream politician. "No candidate this year has attracted anything like the curiosity Al Franken has, because no one quite like him has ever seriously pursued high office," writes journalist Josh Green in an Atlantic article about Franken titled "He's Not Joking."
But Green says the punch line is that Franken's success so far has come not from comedy but from old-fashioned politicking. In other words, the only rubber chickens we're likely to see from Franken's campaign will be on the menus of campaign fundraisers.
Still, Coleman's attacks on Franken have largely centered on Franken's long comedy career, says Green. "They've been a defining technique of the campaign so far," he says. "You could argue that it's become the biggest issue in the race."
Green says it's just a standard play out of the political rule book: pore through every minute aspect of an opponent's record and look for any and every piece of ammunition. In this case, that background includes years of sketch comedy for Saturday Night Live and interviews in which Franken answered questions as a comedian, not as a politician. In an interview with Playboy, for example, he made a joke about rape. And in one SNL sketch, he joked that if he ran for president, he'd have to give up adultery.
"You'd have to be willingly brain dead to take that joke seriously," says Green, who says that it's very easy to take jokes out of context in a political campaign. "Politicians are more or less terrified of comedy. For a joke to be funny, it more or less has to offend a few people."