Stomach Bacteria Could Prevent Asthma
Stomach Bacteria Could Prevent Asthma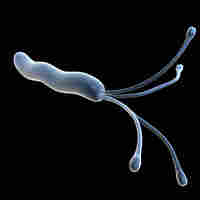 Several years ago, researchers proposed the provocative idea that bacteria living in the human stomach could be responsible for the development of some stomach ulcers — and the doctors found that treating those bacteria, H. pylori, with antibiotics could reduce ulcer risk. New research suggests, however, that those bacteria may not be all bad — they could help prevent the development of childhood asthma.
Writing in the Journal of Infectious Diseases, the scientists report that children between the ages of 3 and 13 are nearly 59 percent less likely to have asthma if they have the bacterium in their gut. The children were also 40 percent less likely to have hay fever and associated allergies such as eczema and rash.
The cause for the link isn't exactly clear, though the researchers believe that people with the bacteria have more immune cells called regulatory T cells. They say the surplus cells prevent the immune system from overreacting to allergens, which can trigger asthma and allergies like hay fever.
Martin Blaser, chairman of medicine and microbiology professor at New York University — and a researcher on the project, talks about the report and what it means.