Loan Officer Flies To The Rescue Of Baby Ducks
Loan Officer Flies To The Rescue Of Baby Ducks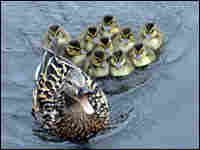 Joel Armstrong works at a bank in downtown Spokane, Wash. Sitting in his office back in May, he noticed an unusual scene — a duck in the awning just outside his second-story window.
"I kinda looked and realized that she had built a nest, and then I noticed some eggs in there," he tells Weekend All Things Considered host Andrea Seabrook.
Armstrong watched and waited until one day the eggs hatched, exposing 10 yellow puffs with beaks.
The next day, Armstrong saw the mother duck pacing along the high awning.
"All of a sudden, the mother jumped down to the sidewalk," Armstrong says, "and at that moment, I just said, 'I've got to get down there and help these things. I think they're gonna start jumping.'"
The first duckling waddled up to the ledge and jumped 10 feet down to the sidewalk. The little duck lay limp.
That's when Armstrong leaped into action.
"So I ran over there, stood under the awning," he says. "Another friend stood 40-50 feet away and told me when they were about to jump, and then I'd look up and catch 'em and then just instantly kinda drop them to the ground. And the mother didn't really seem to care."
Armstrong caught the remaining ducklings, and the first one who hit the sidewalk sprang back to life.
It was a three-block waddle to the Spokane River, so Armstrong grabbed a cardboard box, collected the ducklings and walked them down the street, carrying the box low so Mama Duck could see her babies. Finally, they reached the river.
"The mom ran over there. Her ducklings just followed, and then she plopped in the river. They knew how to swim instantly, and they were so happy," Armstrong says. "And the mom started doing circles right in front of us, quacking and actually wagging her tail."