Harrington Overtakes Norman, Wins British Open
Harrington Overtakes Norman, Wins British Open
Golf fans were treated to an exciting outcome in the British Open over the weekend, when veteran Greg Norman almost became the oldest winner of a major golf tournament. But Irishman Padraig Harrington overcame a wrist injury to win the tournament for the second time in a row.
Harrington shot a brilliant 32 on the final nine holes at Royal Birkdale Golf Club to pull away from all of his pursuers.
Steve Inskeep talks to commentator John Feinstein.
Harrington Wins Open, Thwarting Norman Conquest
Harrington Wins Open, Thwarting Norman Conquest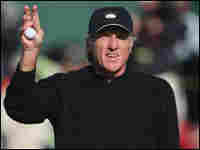 Padraig Harrington became the first European in over a century to win the British Open two years in a row.
It was a sweet and historic victory for Ireland's Harrington, but it was almost overshadowed by an amazing comeback attempt by 53-year-old Greg Norman, who finished third, even though he went into Sunday's competition leading by two strokes.
"He hasn't played extraordinary golf in 10 years," says sports analyst Bill Wolff, who says Norman was perceived to be the best player in the world from the mid-1980s through the '90s. At the same time, says Wolff, Norman's career was known for "tremendous, biblical levels of disappointment, when he was perceived to have choked at the big moment, over and over and over."
"Like a half a dozen times," says Wolff, "he would lead the big tournament going into the last day and then he would lose it." Wolff says the most memorable example came in the 1996 Masters tournament, when Norman lost despite an early six-stroke advantage. That, Wolff points out, "is like in basketball a 25-point lead, a huge lead."
Did Norman choke again this weekend? No, says Wolff, although cruel sports observers looking to put a nasty, mean-spirited spin on the story might argue differently. "I think the objective reality is," says Wolff, "here's a guy who's 53 and he got tired and he got beat by an excellent player."
Even Harrington realized that Norman was a sentimental favorite, as he recounted what he said to Norman on the green on Sunday: "I said to him coming down 18, I'm sorry it wasn't his story that was going to be told tonight. I did feel that, but I wanted to win myself. In this game, you have to take your chances when you get them. But it would have been a fantastic story.''
Norman himself appeared to be circumspect about his loss. "Maybe I did let it get away, maybe I didn't," he said. "Can I walk away feeling down? Of course, I can. Can I walk away feeling pretty good? Yeah, I can do that, too."