What's Wrong With Amtrak?
What's Wrong With Amtrak?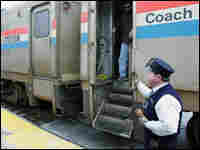 Ben Jervey wants trains to make a comeback. As a contributing writer to Good magazine, he covers environmental issues, and he sees rail transportation as a solution to energy and congestion problems.
If increases in Amtrak ridership are any indication, some Americans agree with him. The number of rail trips in the busy Northeast corridor is up more than 10 percent, with one route to Maine seeing a whopping 28 percent increase.
However, Jervey observes, train travel has fallen remarkably since its heyday, which he says was between the 1930s and the mid-1950s. In 2000, just 1 percent of all travel between U.S. cities took place on trains, while airline travel increased 16 times, and even bus service nearly doubled. Jervey points out that cheap fuel and massive government subsidies for automobile and air travel, combined with massive underfunding and neglect of rail transit, helped to tip the balance against trains.
"Nobody ever considers taking the train," Jervey says. "It's considered a novelty." Jervey decided to see for himself what a cross-country ride on Amtrak was really like, and he wrote about the trip in a Good magazine article titled "Train in Vain."
The trip from New York's Penn Station to Oakland, Calif. — "The train doesn't actually get quite into San Francisco," Jervey explains — is over 3,000 miles and is supposed to take 77 hours and 15 minutes. But the train is rarely on time. For one thing, outside of the Northeast, Amtrak's trains are often forced to take a back seat to freight trains on rail lines that the government agency doesn't own.
But those aren't the only delays passengers face. Jervey says his train made an unscheduled two-hour break in the Nevada desert, even though it was hours behind schedule, because engineers had reached their work limit and Amtrak had made no plans for a new crew.
Jervey's train arrived at its final destination just about eight hours late. But he fared better than other passengers he cited in his article, who experienced 12-hour delays on routes that would normally take six hours to drive, or five-hour unexplained standstills. Then, he writes, there's "the mother of all Amtrak horror stories": because of a landslide coupled with staffing negligence, the California Zephyr was once stopped dead in its tracks for two full days.