Leon Fleisher: A Piano Legend At 80
Pianist Leon Fleisher turns 80 years old today. He's considered one of the great pianists of the past century, although for a significant portion of his career he was forced to play with only one hand.
Fleisher, at the height of his career in the early 1960s, was hailed by one great conductor as "the pianistic find of the century." But then a pianist's nightmare struck: A repetitive-motion injury (later diagnosed as focal dystonia) caused the fingers of his right hand to stiffen and fold. It was an enormous blow, but Fleisher eventually found his way through by teaching, conducting, and playing repertoire written especially for the left hand. Finally, after nearly 30 years of treatments, Fleisher returned to playing with both hands.
Tim Page, a Pulitzer Prize-winning critic and professor of music and jounalism at the University of Southern California, picks some of Fleisher's finest recordings, highlighting the great musician in both stages of his amazing career.
Leon Fleisher: A Piano Legend At 80
Piano Concerto No. 1 in D minor, Op. 15
Piano Concerto No. 1--'Maestoso'
Song: Piano Concerto No. 1 in D minor, Op. 15
from Leon Fleisher Plays Brahms
by Leon Fleisher
What I admire about this Brahms recording is the chance to hear Fleisher and conductor George Szell working together. In many ways, they were much alike as musicians, and brought out the best in each other. Even in the most romantic music, there was always a strong sense of classical rigor. When the piano enters, in the opening movement, it's kind of a surprise. Here, it sounds almost understated but it is charged with tension. It's a very beautiful rendition, yet almost claustrophobic in its nervous energy, and I think that's what this opening should sound like.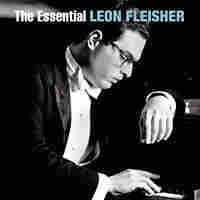 Piano Sonata in B flat major, D. 960
Schubert: Piano Sonata in B flat major
Song: Piano Sonata in B flat major, D. 960
from The Essential Leon Fleisher
by Leon Fleisher
The first time I heard this music, I burst into tears. It somehow seems to start from a point above the battle, beyond human joys and sorrows. Fleisher's performance has an extraordinary serenity and enormous lyricism, and yet it's always plausible on a formal level, which is something you don't always find in performances of this sonata. Some people just let it go on and on, but with Fleisher you have a sense, almost from the outset, that there's a clear beginning, middle, and end.
Copland: Piano Sonata
Song: Piano Sonata
from Leon Fleisher Plays Copland, Liszt, Mozart, Rachmaninoff, Ravel
by Leon Fleisher
I chose the Copland Sonata because it's one of Copland's greatest pieces. What amazes me about the finale of the sonata is how absolutely pure and distilled it is, down to this very beautiful quietude that it ends with, which after a considerable amount of dissonance, sounds almost like a strange, disembodied afterglow. It should be remembered that Fleisher actually performed works by living composers, and played an active part in the intellectual life of American music of his time.
Piano Concerto in D major (for the left hand)
Concerto for the Left Hand
Song: Piano Concerto in D major (for the left hand)
from Ravel, Prokofiev, Britten: Piano Works for the Left Hand
by Leon Fleisher
It's a tragedy, but it is true, to say that the Concerto for Left Hand could have been written for Fleisher since he didn't have control of his right hand for a long, long time. It's nice to hear the sense of freedom and virtuosity that Fleisher brings to this piece, because at the point when this recording was made, the left was the only hand he could use. There's a certain sense of "I'm doing it, I'm still playing piano!" when you listen to this, that is curiously -- or maybe not so curiously -- triumphal.
Bach: Sheep May Safely Graze
Song: Sheep May Safely Graze
from Two Hands
by Leon Fleisher
This might be my favorite recording of Fleisher's. I think he just plays it magnificently. It's crystalline, yet full of feeling. It's "romantic" Bach, as it's played on the piano, and yet it's absolutely faithful to Bach's own structures. Fleisher plays it with such amazing tenderness, such joy in squeezing beauty out of every single phrase. I put on this recording when I need some sense of real deep and abiding peace, because it always provides it.
More Fleisher Stories