Tips For Anxious Parents Flying With Infants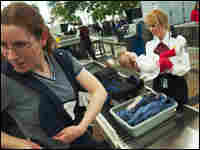 Taking an infant on an airplane can be new parents' worst nightmare.
Well, maybe not the worst nightmare, because they have so many nightmares (and probably would have even more, if they had any time to sleep), but it's scary nevertheless.
The lack of clear guidance from airlines doesn't help the situation. It's even unclear whether parents should buy an extra seat for the child. But Fawzia Rasheed de Francisco, author of The Rough Guide to Travel with Babies and Young Children, has some tips.
It's especially daunting to fly with babies because they can't communicate exactly what's troubling them. Are they crying because of something completely unrelated to the trip? Or is the source of their discomfort specifically related to the air travel?
Children in general, and babies in particular, can have a tough time adapting to changing cabin pressure in airplanes, which can cause ear pain. Feeding infants, which naturally causes them to swallow, can help to relieve some of that pressure, Rasheed de Francisco says.
Pulling gently on the baby's ear can also help, she says, and "screaming is actually a pretty good way of releasing pressure," though a noisy baby may distress other passengers.
But parents should not worry too much about that, she says. New parents spend a lot of time second-guessing what others think and can "wear themselves out from anxiety of whether other people think they're good parents."