With Eye On U.S. Audience, Obama Speaks In Berlin
With Eye On U.S. Audience, Obama Speaks In Berlin
Democratic presidential candidate Sen. Barack Obama's speech in Berlin Thursday dealt with road foreign policy issues. But the address was more to convince American voters of his foreign policy credentials than to impress foreign leaders.
MELISSA BLOCK, host:
Among those watching Barack Obama's speech today was NPR's senior news analyst Dan Schorr. He says comparisons to John F. Kennedy's famous Berlin speech missed the point.
DANIEL SCHORR: The young American politician flies to Berlin, makes an inspiring speech and is hailed by a massive crowd in a public square - but that's about as far as the resemblance goes.
President Kennedy spoke in a beleaguered city, an island in a communist sea menaced by a Stalin blockade in 1948 and a Khrushchev-approved wall in 1961, and he threw a protective American cloak around the jittery population. And yet, speaking in the prosperous capital of a reunified Germany, Obama managed to capture some of the spirit of those dramatic times as he summon today's Berliners to join in bringing down the walls that separate peoples. It was a lofty speech in which, like Kennedy, he identified himself with Berlin.
Obama was addressing Germans, but he was obviously playing to the gallery back home that could see him now striding a world stage. Obama's tour has little in common with the traditional candidate's mandatory junket to the three I's - Italy, Ireland and Israel - in order to curry favor and votes from relatives in the United States.
Senator Obama choosing and evocative backdrop, perhaps not as striking as President Reagan on the Normandy beachheads, is primarily involved in burnishing his foreign policy credentials about which Senator McCain has sought to make an issue.
Obama's task is defined in a Washington Post/ABC News poll that was issued last week. Voters asked who is better able to run the country chose Senator Obama 50 to 42 percent. But when the question was, who is better able to manage foreign policy, 72 percent believed McCain can handle it and only 56 percent said Obama is up to the task.
There is no way of telling what impression Obama has made on the foreign leaders he's met, however briefly, on this trip. The European press has been generally favorable to the Democratic standard bearer. And after his resounding Berlin speech, Obama is likely to be well received in Britain and France. It could hardly be otherwise, given the unpopularity of President Bush abroad and Obama's exploitation of that fact to promise a new and less unilateralist relationship with friends and antagonists around the world.
Obama's theme of change has resounded well in most of these countries, which have let it be known that they would favor a lot of change. But for the moment, Obama's concentration is on persuading Americans that he's the one who can do it.
This is Daniel Schorr.
NPR transcripts are created on a rush deadline by Verb8tm, Inc., an NPR contractor, and produced using a proprietary transcription process developed with NPR. This text may not be in its final form and may be updated or revised in the future. Accuracy and availability may vary. The authoritative record of NPR's programming is the audio record.
Obama In Berlin: No 'Walls' Should Divide Us
Read The Speech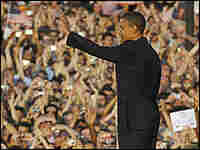 Michael Gottschalk/AFP/Getty Images
Sen. Barack Obama addressed an expansive crowd Thursday near the site where the Berlin Wall once stood, calling on the U.S. and Europe to build new bridges of partnership "to protect our common security and advance our common humanity."
The Democratic presidential hopeful's speech was the centerpiece of a tour through Europe aimed at reassuring skeptics at home and abroad of his ability to lead and to move the cross-Atlantic alliance in a new direction.
"The walls between old allies on either side of the Atlantic cannot stand," Obama said at Berlin's Tiergarten Park, alluding to often strained relations between Europe and the United States during the Bush administration. "While the 20th century taught us that we share a common destiny, the 21st has revealed a world more intertwined than at any time in human history.
"Partnership and cooperation among nations is not a choice; it is the only way, it is the one only way, to protect our common security and advance our common humanity," he said to a crowd that Berlin police estimated at more than 200,000. "This is the moment when we must defeat terror and dry up the well of extremism that supports it. This threat is real and we cannot shrink from our responsibility to combat it."
The Illinois senator drew loud applause at several points during his speech, which used the Berlin Wall, a Cold War icon which was demolished in 1989, as a metaphor for divisions that continue to separate humanity.
"The walls between races and tribes; natives and immigrants; Christians and Muslim and Jew cannot stand," he said. "These now are the walls we must tear down."
Obama met earlier in the day with German Chancellor Angela Merkel for a discussion that ranged across the wars in Iraq and Afghanistan, climate change, energy issues and more.