As Gas Prices Rise, The Road Gets Less Traveled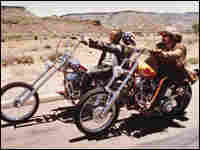 Silver Screen Collection/Getty Images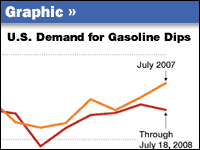 A Nation Less Likely To Be On The Move
Americans logged 9.6 billion fewer vehicle-miles traveled in May of this year than they did in May 2007.
The number of vehicle-miles traveled on public roads also dropped — by 3.7 percent — year over year.
— Federal Highway Administration
In the first three months of 2008, Americans used public transportation for 2.6 billion trips. That's 87 million more trips than during the same period in 2007.
Two roads diverged in a yellow wood, and we can't necessarily afford to travel down either one.
Higher gas prices — about $4 a gallon — are beginning to change the ways we do just about everything in this country: work, shop, play and go to school.
A few examples: Ford's SUV sales are down dramatically — 40 percent compared with last year. Motor scooter sales are up almost 25 percent over last year.
It's become less appealing to hop in a car and drive to a brick-and-mortar megashop. Sales at office supply stores Staples and Office Depot are flagging, says retail consultant Howard Davidowitz. But the companies' online businesses are booming. In fact, he adds, of all the brick-and-mortar stores that have Web sites — including Wal-Mart and Sears — Staples and Office Depot are tops in online sales.
"The consumer is under such stress to get the best deal," Davidowitz says. And how do they get the best deal? Not by careening from store to store in a gas-chugging car, he says, but "by price checking on the Internet."
Changing Habits
In a late-July poll released by AAA Mid-Atlantic, more than 40 percent of those who responded said they are buying fewer groceries because of pumped-up oil prices. Eight out of 10 said they have cut back on personal shopping, and nearly nine out of 10 said they have trimmed their entertainment budgets.
Expensive fuel, over a sustained time, will have a long-lasting effect on the character of a society, says David C. Grabowski, a professor of health care policy at Harvard Medical School. It alters the way we think about where to live, where to work and what hobbies to pursue.
With high-price petrol, we live less dangerously.
For example, Grabowski has just co-authored a study indicating that higher gas prices may result in fewer traffic fatalities.
Inflated prices lead to less driving and, in turn, fewer opportunities for deadly encounters, Grabowski says. The study, spanning 1985 to 2006, shows that as gas prices rose, the number of fatal traffic accidents fell; a 10 percent increase in the price at the pump equals a 2 percent decrease in automobile-related deaths.
And it seems his study was prescient: The National Safety Council reports a 9 percent decline in traffic fatalities in the first five months of 2008, compared with the same period in 2007. Because of his studies, Grabowski has changed some of his own habits: "I'm thinking about each trip I make, trying to do more errands on each trip out."
Even in the heart of oil country, Texans — famous for driving Chevy Suburbans and other behemoths — are responding to high prices: They are hungry for hybrids.
One of the favorite models, the Toyota Prius, can be hard to come by. "Hard is not the word," says Yancy Valenzuela, a sales manager at Sterling McCall Toyota in Houston. "I have got a waiting list of 161 people who have each given me a deposit of $1,000. They know they will get their cars, but it might be six to eight months."
He says he does have one Prius on the lot. It's sold.
Putting On The Brakes
"Get your motor running," John Kay and his band, Steppenwolf, urged us in 1968. "Head out on the highway." This country was born to be wild. To hit the open road. To drive Miss Daisy. To ease on down the road. But exorbitant gas prices are slowing us down like speed bumps.
Forget mobility, upward or otherwise. We are a nation less likely to be on the move. The great American highway of Jack Kerouac, Ken Kesey and Thelma & Louise is becoming the road less traveled.
Tool through rural Virginia and North Carolina and you will see scores of sport utility vehicles and minivans for sale on front lawns, vessels that may become so many pieces of primitive yard art if crude continues its climb. Truck traffic seems lighter on the highways these days.
Big rigs are also reducing their speed. Schneider National, one of the nation's largest trucking firms, told its drivers to cruise at 60 miles per hour instead of the usual 63 mph. The slowdown, says Schneider National spokesperson Erin Elliott, "will save nearly 4 million gallons of fuel on an annual basis."
The Upside Of Rising Gas Prices
Though expensive energy prices cause hardship to many, there are some upsides. In Washington, D.C., the Metro subway system is seeing record usage. Metro recorded the highest weekday ridership in its 32-year history on July 11, when 854,638 trips were taken. Metro spokesperson Cathy Asato says those numbers — usually seen only for special events like July 4 fireworks — are startling because "we typically start to see the ridership slow down a little this time of year."
Scores of schools in 11 states have shifted to four-day school weeks. The Center for Public Education reports that the change reduces transportation costs by 20 percent but doesn't affect students' test scores. "An unforeseen bonus," the center reports, "is that the schedule has unexpected educational and morale benefits for both students and staff."
In Madison, Wis., Gus Juffer, manager of Williamson Bicycle Works & Fitness, says his customers are concerned about rising energy costs. He hasn't seen a whole lot of new bike sales. But, he adds, "What we are seeing a lot more of is service. People are trying to save money by going back to their older bikes."
Customers don't seem to have money to spend on fancy new mountain bikes and speed cruisers, like they did in the past. So they are sprucing up the old machines. "New tires, new wheels and new chains are selling like crazy," Juffer says.
To save money and gas, more and more people are biking, car pooling, hypermiling and even hoofing it. "As more people have begun to commute on foot," says Sean Toren of the Walking Company, "we have noticed an increase in [sales of] our business casual and business dress footwear."
He adds: "People have started to avoid the drive to the gym in order to walk on a treadmill, and are choosing to actively walk outdoors instead."
The Web itself is catching on to the trend. For several years now Google has provided driving directions to various locales. Last week, the site paid homage to those who prefer to go on foot, adding "walking directions" to the maps portion of its site.