McCain, Obama Offer Dueling Education Plans
McCain, Obama Offer Dueling Education Plans
Democratic presidential candidate Barack Obama is proposing a laundry list of educational benefits that would reach from birth to college. His rival, Republican John McCain, plans to focus on enabling local educational initiatives and expanding virtual learning.
Although both Obama and McCain have criticized the No Child Left Behind Act, neither proposes scrapping it altogether. While Obama regularly bashes the landmark education law for being underfunded, he is not planning to drop the measure's reliance on standardized tests, which is its most controversial provision.
McCain would offer vouchers to children in schools that fail to meet federal standards, so they can attend private schools. Obama opposes vouchers.
Both major teachers' unions have endorsed Obama, despite the fact that he has endorsed so-called "performance pay" — bonuses for successful teachers — something many unions have resisted. Obama would let teachers negotiate how to dole out these bonuses. McCain, who also endorses merit pay, would let principals decide how to distribute the money — something unions roundly reject.
Candidates Differ on Breadth of Education Plans
Comparing Candidates' Plans
Both candidates plan to maintain full federal funding for schools, keep the No Child Left Behind Act intact and provide more money for needy college students and merit pay for teachers. Here's where their plans differ.

McCain: He supports school vouchers, home schooling, charter schools and any program that allows parents to chose the school their child will attend.

Obama:Obama also wants to give parents more options when they pick a school for their children, but he would limit those choices to public charter schools. He does not support vouchers for children to attend private and parochial schools. He is the first presidential candidate ever to propose accrediting all schools of education that train teachers.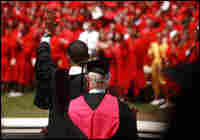 Candidates' Key Advisers
Obama:
Linda Darling Hammond: She is a professor at Stanford with the School Redesign Network. Hammond is most widely known for her work at Columbia Teachers College, long-considered an incubator for big, liberal, left-leaning education proposals.
Michael Johnston: He works with the New York City-based organization New Leaders for New Schools. His organization is touted as one of the most innovative collections of education entrepeneurs who have made urban school reform their top goal.
Andrew Rotherham: He is a former adviser to New York Sen. Hillary Clinton and is widely respected in education circles. He is also the co-founder of the Education Sector, a liberal think tank in Washington. Rotherham is considered by some as a possible nominee for U.S. secretary of education in an Obama administration.
McCain:


Lisa Graham Keegan: She is a former superintendent of public instruction in Arizona and a close friend to McCain. She advised him during his first presidential run in 2000 and was on the short list to become President Bush's secretary of education. If McCain is elected, Keegan will be the leading candidate for that post.
Phil Handy: He is a former chairman of Florida's State Board of Education.
Jane Swift: Former governor of Massachusetts.
Gene Hickok: Former U.S. undersecretary of education in President George W. Bush's administration.
Hannah Skandera: Former California undersecretary of education.
The two candidates differ on everything from public school funding to college tuition to the No Child Left Behind Act. Below, NPR lays out the two candidates' education plans side by side.
Funding Public Education
The McCain campaign has said that the Arizona senator will continue to fund public schools at their current rates, but additional funding would only become available if schools showed progress.
McCain also wants to give more of that money to parents for them to send their kids to the public, private or religious schools of their choice and would like to commit a total of $750 million to develop "virtual schools" and curriculums, allowing students to take online classes in science, math and foreign languages.
Obama has said that his education proposals would cost about $18 billion and would be funded by trimming NASA's budget and auctioning surplus federal properties, among other measures. But most of the Illinois senator's education proposals are so costly that they would require Congress to approve additional new spending. He says he wants to make "a historic commitment" to education, because he wants to give every American child the same chances he had.
Rethinking the No Child Left Behind Act
Both McCain and Obama plan to keep in place the No Child Left Behind Act, although they both want to tweak the law.
McCain voted for the 2001 law, which has given the federal government unprecedented authority over testing, academic standards and the rating of the nation's public schools. However, he has joined critics — Democrats and Republicans alike — who say the law needs major fixes. Unlike conservatives and some members of Congress, McCain does not want to scrap the law entirely. His advisers say instead, he wants to provide more tutoring services for students who are behind before he tackles NCLB.
Obama was not in the U.S. Senate when Congress voted for the No Child Left Behind Act, but he supported it in the Illinois state legislature. His biggest criticism of the law is that it has been ineffective and inadequately funded. He also has said it relies too heavily on poorly designed tests to gauge progress in reading and math at the expense of a well-rounded education. Obama says he doesn't want to get rid of testing, but he does want to work more closely with governors to come up with better written tests that help teachers pinpoint students' weaknesses.
School Choice: Vouchers, Charters and Home Schooling
McCain supports vouchers, home schooling, charter schools and generally any policy that helps parents choose the private or public school that they want their children to attend. School choice, McCain argues, will create market forces that will spur competition among schools, not just for students but for the best teachers. He has also said that he would expand federally funded vouchers called Opportunity Scholarships that would let more parents pick the school of their choice.
Obama also wants to give parents more options when they pick a school for their children, but he would limit those choices to public charter schools. He does not support vouchers for children to attend private and parochial schools.
Keeping College Costs Low
Both McCain and Obama support providing more money for needy college students, as well as the recent efforts by Congress and the Bush administration to shore up the student loan program, which has been hit hard by the credit crunch.
Obama would like to introduce a new tax credit to ensure that the first $4,000 of a college education is free for most students, in exchange for 100 hours of community service. This plan would cost about $10 billion a year. Obama says he can save billions of dollars by overhauling the federal student loan program, and creating a system that bypasses banks and private lenders in favor of having the U.S. Education Department run a direct lending program.
He also wants to double the size of the Peace Corps and expand Ameri-Corp and other national service programs.
McCain wants to make college more affordable by supporting a big increase in Pell Grants that Congress approved for needy students in 2007. McCain also backed the expansion of low-interest loans for middle-class families who are struggling to keep up with college tuition increases.
Training Teachers
Obama would require all schools of education to be accredited and then figure out which colleges are doing the best job of training teachers. Obama is the first presidential candidate ever to make such a proposal. His proposal borrows many ideas from several commissions that promote the national certification of teachers, more mentoring programs for first-year teachers, and merit pay for the best teachers. The latter proposal has been controversial because the teachers' union — which has endorsed his candidacy — opposes the idea of merit pay.
McCain has said that he supports merit pay for teachers, including giving bonuses to teachers who work in the most troubled schools. He also wants to recruit more top teachers who have graduated in the top 25 percent of their class, or who participated in an "alternative teacher recruitment program," such as Teach for America.