Economy Starts To Sink Florida Boating Industry
Economy Starts To Sink Florida Boating Industry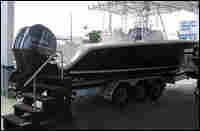 The economic downturn is taking a toll on the boating industry in Florida. With high fuel prices and expensive boat payments, many Floridians are finding it harder to use, sell — and keep — their boats.
Take Black Point Marina, south of Miami on Biscayne Bay. Marina officials say as fuel prices have risen, traffic here has gotten lighter.
For boater Hank Banalewicz, fuel costs about twice as much as last summer. On a recent morning, he says it cost him $250 to take out a boat. Last year, when gas was cheaper, it cost about $100 or $120.
"Oh, it's totally ridiculous," he says.
And as for boat traffic on the water?
"Hardly any boats . . . at all," he says.
Banalewicz says he takes his boat out less frequently now, and when he does, he uses it differently. He cruises less and anchors more.
That's the story in Florida — and also in Michigan, California and other places where boating is big. According to the Florida Fish and Wildlife Conservation Commission, the state has more than a million registered vessels — one boat for every 18 people.
Von Skinner, a boat dealer who owns the Cozy Cove Marina near Fort Lauderdale, Fla., says the cost of fuel is also now becoming an issue with boat buyers.
"Two years ago, no one even asked how much fuel it burns — just how fast does it go, how many engines can I put on there?" Skinner says. "Now, of course, people are starting to think more fuel economy. The speed ain't as important."
'Big Yacht Guys'
Like most in the boat business, Skinner says his sales are off — down at least 50 percent from last year. Boats are luxury items — and expensive luxury items at that. A brand-new 34-foot Jupiter with twin 350-horsepower engines on display at Cozy Cove costs more than $250,000.
Skinner says he's getting by on his sales of used boats. He also says wealthy customers continue to buy Jupiters to fish from and to tow behind their mega-yachts.
"Those guys are still buying boats — the big yacht guys. But the average, everyday business owner, the guy who would own a boat—they're not buying boats right now. They're hurting," he says.
Elsewhere in the boating industry, things are worse. The nation's largest boat retailer, Marine Max, reported sales down by nearly 30 percent in the first quarter of 2008. Boat manufacturer Brunswick has announced plans to close 12 plants.
Nationwide, fewer boats were sold in 2007 than at any other time in the last 40 years, according to the National Marine Manufacturers Association.
The ripple effects from that slowdown extend far beyond boat dealers and manufacturers. The Marine Industries Association of Florida says that, overall, boating contributes more than $18 billion to the state economy. The figure includes manufacturers, retailers, dock space, service and maintenance fees and fishing supplies. Few now aren't feeling the pinch.
Charters Struggle In Islamorada
Islamorada in the Florida Keys — home to at least 90 fishing charter boats — bills itself as the Sport Fishing Capital of the World.
The slowdown has hit the charter fishing industry hard, according to charter boat captain Steve Leopold.
Onboard the 43-foot charter boat Yabba Dabba Doo, Leopold says it's the height of the summer fishing season, and he should be out every day.
"After July 4, our business was down 30 to 40 percent. That's a big hit," Leopold says.
Part of the problem is fuel. Leopold says the high cost of diesel forced him to raise his price by a couple of hundred dollars. But mostly, he says the economy is whittling away customers. People are spending less and fewer are willing now to put out the $1,400 that it costs for a full day of deep-sea fishing.
And some charter boats won't make it through the fall, he predicts.
"There already are some boats that are planning on going out of business," Leopold says.
Business Booms For Boat Repo Man
While most of the boating industry is hurting, there is at least one business that's thriving.
Bob Toney is the CEO of National Liquidators, the nation's largest marine repossession company. He's a boat repo man. At his company's docks in Fort Lauderdale, boats are everywhere.
"You have six docks that are probably 400 feet long. And [at] most of them, we have them double-stacked and triple-stacked deep. You've got several hundred boats in the water just right here," Toney says.
Toney's company has tripled in size over the last two years. His company repossesses most of the boats at auction, and despite the slow economy, he says sales are brisk. One reason: the weak U.S. dollar. Nearly two-thirds of the boats he repossesses are sold and exported to buyers overseas.