What's In A Name? In 'Hell Ride,' A Really Awful Lot
Will McGarry/Third Rail Releasing
Hell Ride
Director: Larry Bishop
Genre: Action
Running Time: 83 minutes
Rated R: Bikes, babes, brawls, and blow — this Tarantino-backed vehicle earns its rating.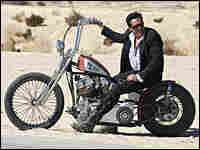 Will McGarry/Third Rail Releasing
If nothing else, the aptly named Hell Ride may be remembered as the moment when the ersatz-grindhouse revival of the '00s hit rock bottom.
A witless sleazefest, violently tedious and aggressively irrelevant, the film pays homage, nominally, to the greasy biker movies and sweaty spaghetti westerns of yore.
The best of those movies, like the Man With No Name pictures starring Clint Eastwood and directed by Sergio Leone, are classics now. As for the rest, well: Shoddy bikesploitation fare with titles like Cycle Savages and Angels Unchained may have their own marginal cult, but really, who cares?
Quentin Tarantino, for one — and he's just about the only one. He encouraged and shepherded Hell Ride in his capacity of executive producer, and it's a shame he didn't write the thing and direct it himself — though not nearly as shameful as the inane, sub-Tarantino dialogue and drab, third-rate stylistic flourishes served up by Larry Bishop, a veteran of the bikesploitation subgenre and the writer, director and star of the movie.
By definition, neo-grindhouse needn't be original, but it does need style and, more importantly, soul. Torque, an underrated motorcycle fantasia from 2004, had a plot nearly as inane as the dueling clans and vapid vendettas of Hell Ride, but it was swift and shiny and candy-red crazy.
Dario Argento, master of the sexploitation horror flick, recently ripped the silliest movie imaginable, Mother of Tears, from his heart — but his unabashed love of the material came through every icky, infectious frame.
And of course Tarantino himself showed how to update grindhouse in Grindhouse, his extravagant (and extremely expensive) simulacrum of low-budget B-movies and the experience of watching them in a grubby old cinema. Beneath all the exploding heads, explosive pole dances and lunatic car chases, Grindhouse ached to reconnect audiences not so much to an obsolete breed of guilty pleasure as to the collective fun of rude, rollicking moviegoing.
Hell Ride has none of that mischievous joy, none of that unabashed showmanship. What it mostly has to recommend it, I suppose, are boobs and torture.
These are scattered throughout an incomprehensible plot, incompetently shot, in which the performers (Michael Madsen, Eric Balfour, Dennis Hopper) stagger about striking poses alternately butch and clueless.
Once upon a time, this might have been the stuff of an enjoyably nasty night at the movies. But in an age when nothing's shocking, mimicking the bad mojo of yesteryear feels practically quaint. Hell Ride is grindhouse with training wheels.