Bin Laden's Driver Gets Short Prison Stint
Salim Hamdan, Osama bin Laden's former driver, was sentenced on Thursday to 5 1/2 years in prison for providing material support for terrorism. But he will serve only a few months.
Hamdan, a Yemeni with a fourth-grade education, will get credit for the 61 months he has already spent in custody while awaiting trial, according to the military judge, Navy Capt. Keith Allred.
The sentence was recommended by the same six military jurors at Guantanamo Bay who convicted Hamdan on Wednesday of material support for terrorism but acquitted him of the more serious charge of conspiracy.
The sentence now goes for mandatory review to a Pentagon official, who can shorten the sentence — but not extend it.
It's unclear what will happen to Hamdan after he serves the time ordered Thursday. The U.S. government has, however, argued it can detain Hamdan and other "enemy combatants" indefinitely as long as the war on terrorism continues.
The trial was the first test of a war crimes tribunal authorized by the Bush administration to try non-U.S. captives on terrorism charges outside the regular civilian and military courts.
During the punishment phase of the trial earlier Thursday, prosecutors had asked the jury to sentence Hamdan to at least 30 years.
They urged jurors to consider life in prison and to make an example of the man. "The government asks you to deliver a sentence that will absolutely keep our society safe from him," said prosecutor John Murphy.
Hamdan, however, pleaded for the jury to spare him a harsh sentence, saying he never joined al-Qaida or knew in advance of its plots but joined bin Laden's motor pool in Afghanistan for the $200 monthly salary.
"I couldn't beg," Hamdan said, reading in Arabic from a prepared statement. "I had to work."
He said he was sorry for the deaths of innocent people on Sept. 11, 2001, according to a Pentagon transcript. His apology was not heard by reporters because the sound was turned off to protect classified information.
Allred, who has described Hamdan as a "small player," previously ruled the defendant should receive five years of credit for time served at Guantanamo Bay.
From NPR reports and The Associated Press.
Hamdan Played Role In Other Prisoners' Cases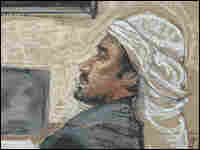 Janet Hamlin/Getty Images
Salim Hamdan, who worked for al-Qaida chief Osama bin Laden and has been held at the U.S. prison in Guantanamo Bay since 2002, has been sentenced to 66 months in prison for supporting terrorism.
Hamdan has acknowledged that he worked for bin Laden. But his larger importance is based on his roles as a defendant and petitioner in the legal battles surrounding other prisoners at Guantanamo Bay who have been declared by the U.S. government to be "enemy combatants."
Hamdan was born in Yemen in 1970, but the exact date is unconfirmed. His age is generally given as 37 or 38. He is married to a woman known as Um Fatima and is the father of two girls. One daughter was born in 2000 and the other in 2002, after he was captured in Afghanistan.
Court papers show that Hamdan met Osama bin Laden in 1996 in Kandahar, Afghanistan, and was hired as the al-Qaida leader's personal driver and bodyguard.
This was just after bin Laden himself had returned to Afghanistan subsequent to being forced to leave his base in Sudan.
Hamdan worked for bin Laden during a period when al-Qaida launched a series of attacks on U.S. targets. They included the U.S. Embassy bombings in Tanzania and Kenya in 1998 and the attack on the USS Cole in Yemen in 2000. Part of the testimony at Hamdan's trial centered on what knowledge, if any, he may have had about the 2001 attacks on the World Trade Center and the Pentagon.
Hamdan was captured in November of 2001 by members of the Afghan Northern Alliance and then turned over to U.S. forces. At the time, he was alleged to be carrying two surface-to-air missiles to a battlefield near Kandahar.
Court documents acknowledge that Hamdan was kept in near isolation and subjected to coercive interrogation methods after his capture. He was declared to be an "enemy combatant" and sent to the U.S. military prison camp at Guantanamo Bay, Cuba in 2002.
Hamdan came to public notice in 2004, when he was among the first prisoners to be formally charged with conspiracy and set to stand trial before a military commission. A federal court halted Hamdan's trial because of a dispute over whether he was a prisoner of war and thus subject to the protection of the Geneva Conventions.
In 2005, an appeals court ruled that the Geneva Conventions didn't apply to members of al-Qaida and sent Hamdan's case back to the military commission. In 2006, in a case called Hamdan v. Rumsfeld, the Supreme Court found that the military commission itself had violated the Uniform Code of Military Justice as well as the Geneva Conventions.
In 2006, Congress passed a law designed to overcome the Supreme Court's objections to the military commissions, and Hamdan was once again scheduled for trial. In 2007 two military judges dropped all charges against Hamdan and another inmate on the grounds that although they were declared to be enemy combatants, a category that could apply to soldiers, they were never designated "unlawful" enemy combatants.
The head of the military commission system decided later that year that Hamdan was an "illegal enemy combatant," clearing the way for his trial in 2008.