Zack Hample, Baseball Fan Extraordinaire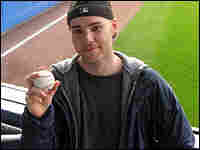 Dedicated baseball fan Zack Hample knows all the ins and outs of the game — including when it's okay for a pitcher to hit a batter deliberately.
Hample turned his obsession with the game into a career. He gives tours of stadiums, appears on television and radio and writes about the sport in his blog, The Baseball Collector. His books include Watching Baseball Smarter: A Professional Fan's Guide for Beginners, Semi-Experts, and Deeply Serious Geeks and How to Snag Major League Baseballs.
This interview was originally broadcast Aug. 8, 2007.