Women's Softball On Olympic Chopping Block
Women's Softball On Olympic Chopping Block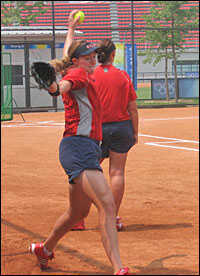 Reporter's Note
Covering the first softball competition at the 1996 Atlanta Olympics, I remember that steamy Georgia day when I went out to watch the U.S. women practice, and my jaw dropped.

On the field in front of me, a collection of some of the best, most approachable athletes I'd ever seen. America beheld the same thing and fell in love with what many came to call "the real dream team" of Olympic sport.

The love has continued through gold medal performances at three straight Olympics, right up to these games in Beijing.

— Tom Goldman
There are three women-only sports on the Olympic program in Beijing. And after the games end Aug. 24, there will be two.
The International Olympic Committee voted softball off the program in 2012. That means Tuesday's start of the Olympic softball competition in Beijing will be bittersweet.
Still, players on eight teams, including the three-time defending champion U.S., are determined to put on the kind of show that will force officials to bring back the sport.
President Bush included on his busy China schedule a visit to the Fengtai softball venue. He chatted with coaches, posed with players and then leaned up against the backstop behind home plate to simply watch.
What he saw, down the first base line, was left-handed pitcher Cat Osterman working on her wicked windmill underhand delivery.
She slapped her right thigh with her glove as the yellow softball rocketed toward a teammate catching the ball, which is bad news for the opposition in China. Osterman was a big part of the U.S. gold medal effort in Athens four years ago. That's when the American women went undefeated and outscored opponents 51 runs to one.
That performance, it's said, is one of the reasons why the committee voted in secret the next year to drop softball.
U.S. power-hitter Crystal Bustos still fumes about the vote and how it might've been punishment for the work U.S. head coach Mike Candrea did in 2004.
"You know, he beat into our brain that we were going to come out and we were going to dominate," Bustos says. "That's all we were going to do. ... We weren't going to hold back for nobody. And that's what we did. So you're going to penalize people if that's what it is about? For being the best?"
No one you ask in the softball world knows for sure what the secret 2005 vote was about. There are theories about U.S. dominance and anti-U.S. sentiment.
Others credit softball's perceived lack of popularity in Europe, where the IOC is headquartered.
Committee spokespeople in Beijing did not respond to interview requests.
Petra van Heijst, a 23-year-old infielder for the Netherlands national team, says it's wrong to assume Europe is a softball wasteland.
"Italy is really big already," van Heijst says. "And Czech Republic and Russia and Germany — everybody. I see it in every country."
Van Heijst may be looking through hopeful eyes, but softball officials say there does need to be more development in Europe. Others think the sport itself needs to change to attract more attention, possibly by moving back the pitcher's mound so the game can have more offense.
Among softball lovers, there's intense lobbying to get the sport back on the program for 2016. The women playing in Beijing plan to do their part, and they hope to pack the stands as a result.
Asked about a possible dilemma for the U.S. — as in, "Take it easy ladies, so there's a competitive tournament" — Crystal Bustos says, "Not a chance."
"Because we're gonna come out here and be the best again," Bustos says. "We're not gonna hold back."
Softball fans hope China, Canada, Venezuela, Japan, Australia, the Netherlands and Tapei do the same.