Suzy Bogguss On Mountain Stage
Listen Now: Suzy Bogguss On Mountain Stage
Set List
"If You Leave Me Now"
"In Heaven"
"Bus Ride"
"Eat at Joe's"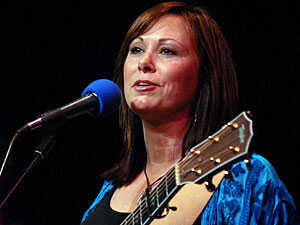 As a country singer, Suzy Bogguss made plenty of hits. But she's never lingered too long in one style. Whether staking claim to Western swing, singing duets with Chet Atkins or making her latest excursions into more jazz-inflected pop, the Illinois native's distinctive voice is always clear and evolving.
Her latest album, Sweet Danger — which she co-produced with legendary jazz producer and keyboardist Jason Miles — features seven of her own co-written songs. This set, recorded in Charleston, W.Va., begins with a cover of Chicago's "If You Leave Me Now." She later revisits her hit-packed early-'90s period with "Eat at Joe's" from her album Voices in the Wind.