'Vicky Cristina Barcelona': Woody Allen, Uninspired
'Vicky Cristina Barcelona': Woody Allen, Uninspired
Victor Bello/The Weinstein Company
Vicky Cristina Barcelona
Director: Woody Allen
Genre: Romantic Comedy
Running Time: 96 minutes
Rated PG-13: A Woody Allen fantasy, but not his wildest one — attractive women explore their sexuality and have sapphic relationships in a tasteful fashion.
Watch Clips
'I'm Not Going To Settle'
'I Have Thoughts Of Killing You'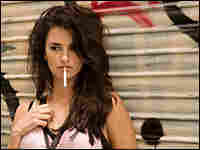 Victor Bello/The Weinstein Company
Comedy-deprived moviegoers are desperate for the return of the old Woody Allen — the one who was bard of Manhattan before his focus shifted overseas, the one who made them laugh. Each new Allen film is frantically examined: Is he back? Please let him be back. But Vicky Cristina Barcelona is not the return of Woody Allen; Elvis, it would appear, has truly left the building.
Vicky Cristina Barcelona is, unsurprisingly, the story of two young American women, Vicky and Cristina, who spend the summer in Barcelona. Vicky, played by Rebecca Hall, is grounded and realistic — she's engaged to be married — while Cristina, played by Scarlett Johansson, is into suffering, passion and risk.
So it's Cristina, naturally, who catches the eye of Juan Antonio (Javier Bardem), a rogue of a painter and an unabashed seducer who doesn't hesitate to chat both women up.
No matter what you end up thinking about Vicky Cristina Barcelona, it's hard not be entertained by the Oscar-winning Bardem, who eats this role up like it's a hot fudge sundae. In fact, Bardem and Penélope Cruz, who plays his ex-wife, are so good they make the film seem better than it is.
The problem is that Vicky Cristina Barcelona is too intent on being taken seriously to end up being more than mildly diverting. Allen himself has said in interviews that this was a film about relationships, not a comedy — and he's right.
Some of Allen's best work bridges the gap between humor and drama, of course, but Vicky Cristina Barcelona boasts neither the humor nor the insights to manage that trick. Despite its focus on the romantic entanglements of innocents abroad, the film barely rises to the level of Henry James lite.
There is nothing wrong with Allen's intention to marry comedy to emotion. It's simply too bad that he's not as good at it as he used to be.