Looking Into The Spanish Team's 'Slant Eyes'
The Spanish men's and women's Olympic basketball teams posed for pictures this week, making a gesture offensive to many Asians.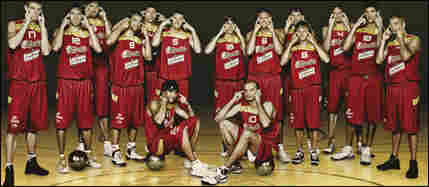 The talented athletes pulled the skin up around their eyes to make themselves appear "Chinese." Producer Ki-Min Sung says the group gesture, photographed for an advertisement in a Spanish magazine, made her cringe.

"The team may have been posing for an ad that was for sports fans in Spain. But when I saw the photo, it felt like they were making the slant eyes at me," she says.

Seeing the photo stirred up memories of the last time someone gave her the gesture; she was working at an amusement park, and her boss — a middle-aged white guy — would pull at the sides of his eyes and exaggerate an overbite when he said "Chinese and Japanese."

Sung checks in with other Asians in Los Angeles and finds out that Korean-, Chinese- and Vietnamese-Americans alike are all too familiar with the gesture.