Memorable Swimming Moments Abound In Beijing
Nine days of swimming competition have ended at the Olympic pool with another gold medal for Michael Phelps and a silver for 41-year-old Dara Torres. Phelps left an indelible mark on the Beijing games, but there were other unforgettable moments, as well.
ANDREA SEABROOK, host:
From NPR News it's ALL THINGS CONSIDERED. I'm Andrea Seabrook.
The Olympic drama is over at the water cube, but oh, those memories. Michael Phelps scooping up eight gold medals and seven world records, Dara Torres at 41 years old losing by a fingernail. Stunning sprints, raucous relays, dazzling dives.
NPR's Howard Berkes is in Beijing where hearts are still racing, even if the swimmers are done.
HOWARD BERKES: This was the most redundant announcement at the Olympic pool this week.
(Soundbite of Olympic Announcement)
Unidentified Man: With the gold medal and Olympic champion in the world and Olympic record time, representing the United States of America, Michael Phelps.
(Soundbite of Cheering)
BERKES: This was the first of eight medal ceremonies for Phelps and his eyes welled with tears as the gold hung from his neck. It was an auspicious start, a clear win in the individual medley. But the next event ended with the most dramatic finish of the week.
(Soundbite of Cheering)
BERKES: This was the freestyle relay where Phelps led off, and Jason Lezak swam the last leg surging from behind in the fastest 100 meters ever, winning by just eight one-hundredths of a second. That was too close for comfort, and (unintelligible) set a pattern for the six races to follow.
John Naber watched at home in California. His four swimming gold medals at the 1976 Games gave him some sense of the challenge Phelps faced.
Mr. JOHN NABER (Olympic Gold Medalist): In many races, he had to defeat people who were world record holders in that event. In one race, he had to overcome leaking goggles. In another race, he had to out touch a swimmer by taking one more stroke than his opponents. All these ingredients combine to say, you know what? This guy is focused only on touching the wall first, and he does seem to be impervious to the pressures that would buckle the knees of any other mortal human being.
BERKES: When it was all over, Phelps was matter-of-fact about the goals he had set for the week.
Mr. MICHAEL PHELPS (Olympic Gold Medalist): Everything was accomplished, you know what I mean? Doing all best times, winning every race, you know, this is something we've been looking forward to for the last four years and it's been a fun last four years. And it's been one fun week, that's for sure.
BERKES: Phelps ended the games with more gold medals than any athlete in a single Olympics and most gold medals in an Olympic career. American swimmer Dara Torres had a very different goal for these Olympics, to show that age doesn't matter.
(Soundbite of Olympic Announcement)
Unidentified Man: (Unintelligible) United States of America, Dara Torres.
(Soundbite of Cheering)
BERKES: The 41-year-old Torres swam the 50-meter freestyle against one swimmer 25 years younger. Torres won three silver medals in Beijing, missing gold by just a hundredth of a second.
Ms. DARA TORRES (Olympic Silver Medalist): If it helps anyone else out there who is in their middle aged years, and maybe put off something that they thought they couldn't do because they were too old or maybe thought because they have children that they can't balance what they want to do and being a parent, if I can show what I've done and that you can do it, then I'm absolutely thrilled.
BERKES: The pool itself and the building around it also starred. The Water Cube, as it's called, looks like it's sheathed in bubble wrap and glows bright blue at night. Inside, the pool's built to absorb turbulence. That explains, in part, 25 world and 57 Olympic records in nine days.
Olympic gold medalist Rowdy Gaines analyzes swimming for NBC.
Mr. ROWDY GAINES (Olympic Gold Medalist; Swimming Analyst, NBC): I think the factors were A, the swimming pool itself, 200-million-dollar complex, B, the swimsuit, 500 dollar high tech suit that is less resistant to water than human skin is, and then C, that final thing, are the athletes that are just training so much harder than they ever had before.
BERKES: There's also a D: the skill and drive to swim faster than ever, and to stand on the podium with an Olympic medal.
Howard Berkes, NPR News, Beijing.
NPR transcripts are created on a rush deadline by Verb8tm, Inc., an NPR contractor, and produced using a proprietary transcription process developed with NPR. This text may not be in its final form and may be updated or revised in the future. Accuracy and availability may vary. The authoritative record of NPR's programming is the audio record.
Phelps Turns Legend With 8th Beijing Gold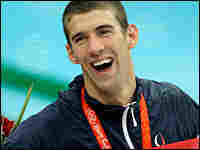 Swimming competition at the Olympic pool in Beijing ended Sunday with the fulfillment of an improbable quest. In the very last race, Michael Phelps won his eighth gold medal of the games. He and his American medley relay teammates also broke the world record.
Phelps now has two gold medal records: more gold medals (eight) in a single Olympics than any other athlete in any sport, and more gold medals (14) in an Olympics career.
"There is no question from now on, when people think of the greatest swimmer of all time, it's only going to be Michael Phelps' name that comes to their lips," says John Naber, four-time swimming gold medalist.
The Beijing Olympics, adds Olympic historian David Wallechinsky, will be known as the "Michael Phelps Games."
"They have to be," Wallechinsky says. "He won eight gold medals. He deserves to be remembered as the hero of the Beijing Olympics."
Wallechinsky now predicts a new word in the American lexicon: Phelpsian.
"That will be when you win everything and overwhelm the position. That will be a Phelpsian achievement," he says.
The eighth Phelpsian achievement of the Michael Phelps Games came during the butterfly leg of the 400 medley relay. Phelps dove into the water with the American team in third place. He was still in third at the turn, but once he got those arms churning he made it a faster 100 meters than the world record time.
At the wall, Phelps had the lead and freestyler Jason Lezak then sealed the deal in the final 100 meters. The American team broke the world record by a little more than a second, giving Phelps the record gold medal haul.
"This is all a dream come true, you know, to really just imagination anything, and works towards it," Phelps said after the event. "To accomplish everything you've really ever dreamed of. It's fun."
Fun for Phelps is nine days of competition, 17 races, eight finals, seven world records, and three miles of swimming — including practice swims.
Phelps' level of achievement can't be described, says Australian distance swimmer Grant Hackett, also considered one of the world's greatest Olympians.
"It's phenomenal and I think, in my opinion, we'll never ever see it again. I just don't think that can be emulated or beaten," Hackett said.
That's what was said when American swimmer Mark Spitz won seven gold medals with seven world records in the 1972 Olympics in Munich. It took 36 years for his gold medal record to fall.
Here's one more Phelpsian measure: If the 23-year-old from Baltimore was a country, he would have tied for fifth in the medal count Sunday, with as many golds that day as Australia and Japan.
So what does Phelps plan to do now?
"What I'm looking forward to is not doing anything. Just sitting and not moving," he laughs.
There is also a million-dollar check coming. That's what sponsors promised if Phelps hit the eight-medal mark.
And Olympic champion John Naber expects ripples wide and far from Phelps' performance at the Olympic pool.
"I expect that there (are) a lot of kids around the country, if not around the world, who will next week make a pilgrimage to the local swimming pool and ask if there's a signup sheet for the swim team. Because there (are) going be a lot of people who want to be just like Michael Phelps," Naber says.
And if any of them make it to the next Olympics, they better be prepared.
Phelps will be young enough to try it all over again.