Candidates Look For Inroads At Evangelical Forum
Rick Warren, pastor of Saddleback Church in Lake Forest, Calif., spoke Saturday to Barack Obama and John McCain at the Saddleback Civil Forum on Leadership and Compassion.
David Davenport, a research fellow at the Hoover Institution at Stanford University, talks to Andrea Seabrook about how the candidates fared.
McCain, Obama Seek Converts At Church Forum
About The Forum
When:
Saturday, Aug. 16, at 8 p.m. EDT
Where: Saddleback Church in Lake Forest, Calif.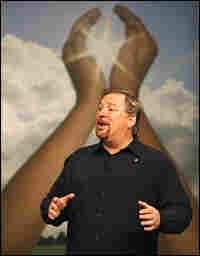 Robyn Beck/AFP/Getty Images
Democrat Barack Obama and Republican John McCain will make their first joint appearance as their parties' presumptive presidential nominees on Saturday. But it won't take place at a town hall meeting or during a televised debate.
Instead, the two candidates will take turns speaking at the Saddleback Church in Orange County, Calif. — home to 22,000 evangelical voters and their pastor, Rick Warren, author of the best-selling book The Purpose Driven Life. Warren has not endorsed either candidate.
Warren has said that the conversations will focus on issues such as poverty, AIDS, climate change and human rights. The forum also gives the politicians the chance to appeal to religious voters. The most recent poll from the Pew Forum on Religion & Public Life shows that white evangelicals are more undecided now than they were at this point during the last two election cycles.
John Green, a senior fellow at Pew, talked to NPR about what to expect from the upcoming forum.
What does it mean that the candidates' first joint appearance is at Saddleback Church?
Beyond what it may say about the role of religion and the campaign, the event seems to serve the purposes of both the Obama and McCain campaigns. As you know, there has been a lot of back-and-forth between the campaigns about joint appearances. This is the first one that's happened. It could also be that some of the people who put this together, including Rick Warren himself, were a particular draw.
Why would Warren be a draw? How was he able to persuade the candidates to appear at his church?
One of the reasons Warren has the kind of attraction to Obama and McCain is that he is not as political as some pastors are. He cares very much about issues like AIDS in Africa. The better parallel is between him and [Billy] Graham. Graham was friends with many presidents and close to the Bush family. Graham did this in a very bipartisan way but always managed to stay above the rough and tumble, because he always talked about issues, and he based his appeal on personal relationships.
What types of issues could the candidates talk about in front of this evangelical audience?
There are a number of issues that evangelicals are likely to respond to quite positively. They are very interested in candidates talking about their faith, and how they understand their personal relationship to God and how that fits into their political platform. Sen. Obama has done a lot of that already. But Sen. McCain really hasn't, so I think a lot of attention may be focused on how he addresses those issues when they come up.
Rick Warren has said he will try to focus the discussion on AIDS in Africa, the environment and poverty. There has been a broadening of the evangelical agenda over the last four years. It's not that evangelical have abandoned the social issues; it's just that they now care about more things.
But the old agenda items haven't gone away. Evangelicals may be interested in hearing where the candidates stand on same-sex marriage and abortion. Rick Warren, in some of his public statements, has said that he doesn't really want to focus on those issues, but it will be interesting to see if the candidates address them anyway in that context.
How have the candidates, up to this point, dealt with religion? And how could it surface on Saturday?
Obama spoke very regularly and openly about his faith and about how it relates to his political values. His campaign has also been organized to reach out to religious voters. Although Barack Obama is very different from George W. Bush, there is a certain similarity between the Obama campaign this time and the Bush campaign in 2004. The approach to religious voters is central to both campaigns.
Sen. McCain has approached it a different way. He seems less comfortable talking about it, and this has not been as prominent in his speeches and in public appearances. There is reason to believe that his campaign is also reaching out to religious voters, but in a less public way. In that sense, the McCain campaign resembles Sen. John Kerry's campaign back in 2004. Sen. Kerry, at least at that point, was also somewhat uncomfortable talking about his faith.
So, it's interesting. There is a little bit of a role reversal [in terms of religion] in the major parties.