PBS Launches An ABCs Offensive With New Shows
PBS Launches An ABCs Offensive With New Shows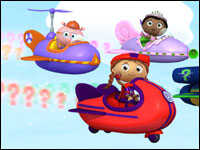 Out of the Blue Enterprises LLC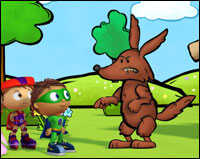 Out of the Blue Enterprises LLC
Susan Meddaugh/WGBH Educational Foundation
Not too long ago, I picked up my 3-year-old at day care and received a free DVD of a show I'd never heard of, called Super WHY.
My son loved it. The animated characters on Super WHY all have special powers. They spell, sound out words, read simple sentences and jump inside books and look for answers to questions they have.
"We're modeling books as a resource for life," explains Super WHY Executive Producer Angela Santomero.
It turns out the free DVD was part of a major initiative by the Department of Education. In 2005, it gave PBS a multimillion-dollar grant to produce shows that would help teach pre-reading skills to children from low-income families. My son was going to a YMCA day care in downtown Washington, D.C., one of 20 cities targeted for outreach.
As a part of the grant, PBS now features a whole lineup of literacy shows like Word World, Between the Lions and Word Girl. This fall's new show is called Martha Speaks, based on the books by Susan Meddaugh. Martha is a dog who eats some alphabet soup; instead of going to her stomach, the letters in the soup go to her brain — making her the only dog who can communicate using words.
"Educationally our goal is to encourage kids' vocabulary development," says Carol Greenwald, the executive producer of Martha Speaks.
"A typical middle-class kid enters first grade knowing about 20,000 words, give or take," Greenwald explains. "But kids from lower socioeconomic groups and kids who are English [as a second language] learners have about 5,000 words, so there's a giant gap there, which just continues to grow."
On each episode of Martha Speaks, five words will be explicitly defined, using definitions scrutinized by vocabulary experts to make sure they're clear for the target audience. In one episode a character says, "I'm just expressing my thoughts," then explains, "when you express an idea, you say or show what you think."
Susan Neuman teaches education at the University of Michigan. She was at the Department of Education when the decision was made to focus on literacy, and while she is very supportive of these shows, she adds that they sometimes "don't have the charm and the interaction and the excitement that some of the other programs have."
For instance, one episode of the Emmy Award-winning show Between the Lions demonstrates how to sound out the words "doodle" and "noodle."
"It focuses very much on phonological awareness, a key skill that is important to literacy development," says Neuman. "But at same time, phonological awareness ... is not terribly fun for young children."
In other words, kids would rather watch Curious George or Blue's Clues — which may explain why the literacy shows don't get great ratings. Only one — Super WHY -- is in the top 10.
Under the terms of the grant from the Department of Education, the PBS producers must use the latest research on childhood literacy development at every stage in the process. But no matter how scientifically sound they are, the shows will have a hard time preparing young children to read if the kids aren't watching.