Analysis: Biden Choice Shows Obama's Pragmatism
NPR's Mara Liasson offers analysis of the Biden selection on 'Weekend Edition Saturday'
Democratic candidate Barack Obama's choice of Sen. Joseph Biden shows he's pragmatic, says NPR's national political correspondent Mara Liasson. She discusses with Scott Simon some of the positives and negatives of Obama's vice presidential selection.
SCOTT SIMON, Host:
NPR national political correspondent Mara Liasson joins us now to talk about reflections on the new Obama-Biden ticket. Good morning, Mara.
MARA LIASSON: Good morning, Scott.
SIMON: What does this pick say, perhaps, about Senator Obama?
LIASSON: Well, it tells us exactly what he wanted it to tell us. You know, candidates are a lot more transparent than you think. And in the last couple of days, he has said that his vice presidential pick would tell voters that he wanted someone who complemented him, not supplemented him, brought experience in an area, in this case, where he has very little, somebody who wasn't a yes man, who'll say what he thinks - we certainly know that about Joe Biden - and someone who would also help him govern. In other words, he was looking for a vice president more than a running mate.
And I think that's what this tells us. It also tells us that he is a pragmatic person. He did not go for someone who would - who's out of the box, someone new, someone who epitomized change to reinforce his message. He feels he does that very well just on his own. He picked a very pragmatic choice. He didn't want to take a big risk.
SIMON: I think we'll talk about - there's some people, obviously, who'd tell you that Senator Biden, for all of his wonderful assets, sometimes can't find the off switch when he's talking. But he can be a really gifted and sharp campaigner, can't he?
LIASSON: There's no doubt that Biden brings a lot to the ticket. You know, this reminds me a lot of the Dick Cheney pick in 2000. At that time, Cheney was from a small, electorally insignificant state, Wyoming. So is Biden, Delaware. But he is a working-class Catholic. He has roots in Scranton, Pennsylvania, which is ground zero of those white working-class voters that Obama still hasn't been able to bring to his side. He has long experience as the chairman of the Judiciary and Foreign Relations Committee.
And as you say, although he is known for his verbal missteps, he did impress Obama during his short run for president with his crispness in the debates. And he - one of the most important roles of the vice presidential candidate is to make the kind of attacks that a presidential candidate can't make, and here he is attacking one of the Republicans who was running.
SIMON: Rudy Giuliani. There's only three things he mentions in a sentence: a noun and a verb and 9/11. I mean, there's nothing else.
SIMON: On the other hand, he sometimes says things that he has to explain later.
(SOUNDBITE OF INTERVIEW)
SIMON: I mean, you've got the first, sort of, mainstream African-American...
U: Yes.
SIMON: Who is articulate, and bright, and clean, and a nice-looking guy. I mean, that's a storybook, man.
SIMON: I - there's...
LIASSON: Ouch.
SIMON: Yeah, ouch. The clean stuff, and there was something about 7-11s and Indian accents, if you recall that.
LIASSON: Oh, there's been a long list of them. And he had a problem with plagiarism in the 1988 race when he ran for president. In the past, he's had what late-night comics might call a truthiness problem. He misrepresented his college record. But clearly, all that is overwhelmed in Obama's eyes by the strengths that he brings to the ticket.
SIMON: And how does the McCain campaign respond?
LIASSON: Well, the McCain campaign has already responded, and they've responded in an ad. It's already on YouTube, and it opens with a clip from the Democratic primary debate showing Biden standing next to a relatively grim-faced-looking Obama.
(SOUNDBITE OF MCCAIN CAMPAIGN AD)
U: What does Barack Obama's running mate say about Barack Obama?
U: You were asked, is he ready? You said, I think he can be ready, but right now I don't believe he is. The presidency is not something that lends itself to on-the-job training.
SIMON: I think that I stand by the statement.
LIASSON: Well, there you have it, and the ad goes on to quote Biden saying that John McCain is a personal friend, a great friend, and I would be honored to run with or against John McCain, because I think the country would be better off. So you're going to hear a lot more of Biden's past statements used against him. I think at least on Obama's readiness, he probably has a pretty quick comeback now. He'd say, well, I might not have thought he was ready then, but he certainly is now.
SIMON: Yeah. Well, it has been several weeks later. NPR's national political correspondent Mara Liasson, thanks so much.
LIASSON: Thank you, Scott.
NPR transcripts are created on a rush deadline by Verb8tm, Inc., an NPR contractor, and produced using a proprietary transcription process developed with NPR. This text may not be in its final form and may be updated or revised in the future. Accuracy and availability may vary. The authoritative record of NPR's programming is the audio record.
Biden Strong On Foreign Policy, National Security
Election 2008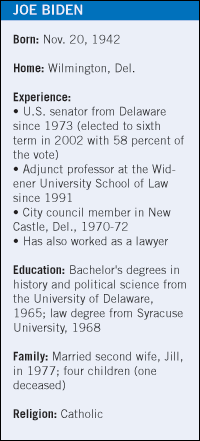 Through four decades in the U.S. Senate, Joseph Biden, 65, has honed a reputation as a heavyweight on foreign policy and national security and a strong debater, if one sometimes prone to verbal gaffes.
Biden was born in Scranton, Pa., to a working-class family — his father was a car salesman — and was raised in the suburbs of Wilmington, Del. He attended Syracuse Law School.
In 1972, at age 29, he became one of the youngest people elected to the Senate. A month later, he faced personal tragedy when his wife and daughter were killed in an automobile accident, leaving Biden a single father of two young sons. Biden remarried five years later.
Biden is unarguably a Washington insider, yet he's never actually moved to the city, instead commuting home to Delaware by train every night. He is Roman Catholic, yet favors abortion rights.
Biden has twice run for president himself, first in 1988, when he dropped out after being accused of plagiarizing British Labor Party leader Neil Kinnock. Soon after he suffered an aneurysm, but he fully recovered.
Early in his 2007 bid for the presidency, Biden found himself apologizing to rival Barack Obama after a remark some found racially insensitive. He had called Obama "the first mainstream African-American who is articulate and bright and clean and a nice-looking guy." During the primaries, Biden also claimed Obama was "not yet ready" to serve as president, a line that will no doubt be rehashed now by Republican rivals. Biden never went far with his candidacy, coming in fifth in Iowa.
Biden's legislative career is long and varied. He helped write landmark legislation that set up shelters and a national hotline for abused women, and another law that put 100,000 police on the streets in the mid-1990s. He served as chairman of the Senate Judiciary Committee from 1987 to 1995, leading opposition to the controversial Supreme Court nominations of Robert Bork and Clarence Thomas.
Biden has served several terms as chairman of the Senate Foreign Relations Committee, which he heads now, and has substantial contacts with world leaders. Just last weekend, he accepted an invitation from Georgian leader Mikhail Saakashvili to visit the former Soviet republic during its tense standoff with Russia. Biden originally voted for the Iraq war but has since come to be a fierce critic of President Bush's policies in Iraq.
Biden complements a Democratic ticket in areas that polls show Obama is weak — he has gravitas, foreign policy experience, knowledge of the inner workings of Washington, and an appeal to working-class voters. While he has clearly harbored presidential ambitions, Biden would presumably be too old to run again if Obama were elected and served two terms.
Where Obama is nuanced, Biden may also have a greater ability to talk tough against rivals in public debate. But the senator is also known to get carried away with the sound of his own voice, digressing into irrelevant personal anecdotes. Referring to this during the recent series of Democratic debates, moderator Brian Williams asked Biden if he had the "discipline" to be president, to which Biden delivered perhaps the best-received line of his candidacy: "Yes."
Biden is up for re-election to his Senate seat this year but could run for this spot while also campaigning on the Democratic ticket.