Alfred Molina: An Appetite for Extremes
Alfred Molina: An Appetite for Extremes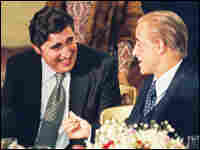 'The Hoax' Tells a Real Story About a Fake
'The Hoax' Tells a Real Story About a Fake
Con men, if they're shameless enough, are almost always a hit with audiences, and they don't come much more shameless than Richard Gere's Clifford Irving. This guy is an operator — fraudulent to his hair follicles, which have been darkened quite elegantly here. And he's come up with a really good idea for a book. He's going to write an "authorized autobiography" of the world's most eccentric billionaire, Howard Hughes.
It would, of course, be a better idea if Irving had actually been authorized, or had met, or even been in contact with Hughes. Alas, that's not the case, which makes his friend and researcher, Dick Suskind, a wee bit nervous.
Give him credit, though, for outrageous audacity: The more bizarre Irving's faked letters, audio tapes, and monetary demands become, the more the publisher's experts throw up their hands. Even when they've actually got him dead to rights, caught in a lie, they discover he's just too slippery to hold on to. You've got to love this guy.
And in Lasse Hallstrom's snappy screen version of his story, you've got to feel sorry for his wife, and for his buddy Suskind, who's the one who ends up doing much of Irving's dirty work. Alfred Molina makes Suskind a sweet, needy wreck of a man, easily bullied, ultimately guilty, and somehow still the moral center of the story.
The screenplay takes many liberties — some, even, with the liberties taken by Irving — and in one nifty twist, it suggests that this consummate scam artist might have been the victim of a scam himself. The audience, in fact, may be the only folks not scammed by The Hoax, which, as entertainment, is the real thing.