Obama Previews Convention Themes On The Road
Obama Previews Convention Themes On The Road
As delegates to the Democratic National Convention assemble in Denver, Barack Obama started a bus trip through several battleground states expected to be crucial in the November election.
STEVE INSKEEP, host:
It's MORNING EDITION from NPR News. Good morning. I'm Steve Inskeep.
RENEE MONTAGNE, host:
And I'm Renee Montagne. And, of course, the Democratic National Convention gets under way later today in Denver. It's Barack Obama's show. The presidential hopeful won't actually make an appearance until Wednesday night, but for the next couple of days, he'll be touring several battleground states expected to be crucial in the November election.
Today, Senator Obama will be in Iowa and Missouri. NPR's Don Gonyea was with him yesterday in Eau Claire, Wisconsin, where Obama talked about some of the things he hopes Americans will learn from the convention.
DON GONYEA: As Barack Obama prepares for the biggest moment of his political life, he seemed, over the weekend, mindful that a more low-key approach was called for as he campaigned in western Wisconsin yesterday. After all, it was Sunday, one of the last of the summer, and a lovely one at that - a good day not to ask people to wait in long lines to pass through security checkpoints.
He started things out at Eau Claire's First Lutheran Church, the 10:00 a.m. service. The congregation was surprised to see the soon-to-be Democratic nominee.
(Soundbite of applause)
GONYEA: That was the sound outside the church as Obama said goodbye to the pastor and headed to his car. From there, it was a short ride to a lakeside setting, where a relatively small group of 300 gathered on picnic tables for a barbecue with the candidate. Obama warmed up the crowd slowly.
Senator BARACK OBAMA (Democratic, Illinois; Presidential candidate): So I'm looking for a brat or a burger or something. Although there was a debate about whether technically this could be called a barbecue, because my theory is that if there's no barbecue, it's not a barbecue.
(Soundbite of laughter)
Sen. OBAMA: It's a cookout. You might be grilling. Is there barbecue here?
(Soundbite of crowd chatter)
Sen. OBAMA: All right. All right. Okay.
GONYEA: But even that light banter had a purpose. One thing the Obama campaign will be working hard to demonstrate this week at the convention and beyond is that Barack Obama has a lot in common with middle-class Americans. To that end, he looked ahead to his wife Michelle's speech in primetime tonight.
Sen. OBAMA: You'll have a sense of who she is and what our values are and how we're raising our kids. And I think what you'll conclude is, gee, he's sort of like us. He comes from a middle-class background. He went to school on scholarships. He had to pay off student loans. He and his wife had to worry about childcare.
GONYEA: Now, that theme was also covered indirectly in the location for this small gathering. It took place at Rod and Gun Park - again, Obama making a pitch to working class Americans, people in Wisconsin who own guns and who like to hunt.
As his motorcade arrived at the park, there were a couple dozen protestors waving signs warning that Obama will try to take away people's guns. Those demonstrators also waved John McCain signs. Obama had this to say to the friendly audience that had secured tickets to actually get a seat on a picnic bench inside the park. He said the Republican goal this year is to scare people about him.
Sen. OBAMA: I saw some signs coming in: He's going to take away your guns.
(Soundbite of laughter)
Sen. OBAMA: Even though I have repeatedly said I support strongly the Second Amendment and the legal right to bear arms.
GONYEA: Senator Obama did take on a harder edge when he went after his opponent John McCain. As he always does, he said he respects McCain, citing his, quote, "Brave and distinguished service." That includes time served as a prisoner of war. But Obama said he does not respect McCain's policies, which he portrays as a continuation of what the country has gotten from President Bush.
Senator McCain, meanwhile, took yesterday off from the campaign trail. But he did do something that might be seen as him burnishing his regular guy credentials. He took in an Arizona Diamondbacks baseball game.
Don Gonyea, NPR News.
NPR transcripts are created on a rush deadline by Verb8tm, Inc., an NPR contractor, and produced using a proprietary transcription process developed with NPR. This text may not be in its final form and may be updated or revised in the future. Accuracy and availability may vary. The authoritative record of NPR's programming is the audio record.
Obama's Challenge: Sell Mile-High Vision To Voters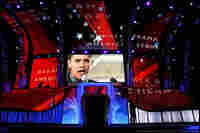 Chip Somodevilla/Getty Images
Doug Pensinger/Getty Images
The 2008 Democratic National Convention gets under way in Denver Monday with a surprise guest at the party. Sen. Edward Kennedy (D-MA) arrived in Denver Sunday night. Kennedy, who has been battling a malignant brain tumor, is the subject of a Ken Burns-produced video tribute that will be shown at the Pepsi Center Monday night.
It's not known whether Kennedy will address the convention, but his spokeswoman said Kennedy is "truly humbled by the outpouring of support and wouldn't miss it for anything in the world."
The four-day convention concludes Thursday when Illinois Senator Barack Obama formally accepts his party's nomination, the first time a major political party has chosen an African American as its presidential candidate. But beneath the undeniably historical nature of the event are some nitty gritty political challenges for the 47-year-old candidate.
Recent polls show the race between Obama and Republican John McCain to be extremely close, despite a number of factors that should favor the Democrats, including an unpopular war and an economy dragged down by high gas prices and a housing crisis.
Many supporters of Democratic Sen. Hillary Rodham Clinton remain unhappy that Obama won the nomination and have yet to transfer their allegiance. Not surprisingly, white working-class voters, whom Clinton did well with in the primary campaign, remain skeptical of Obama.
So the Obama campaign realizes it must still make the sale to millions of Americans, and their effort begins today.
Monday: One Nation
Day One of the convention will be devoted to the theme of "one nation." It might also be dubbed "a family affair." The featured speaker will be Michelle Obama, the candidate's wife. Also speaking will be Michelle's brother, Craig Robinson, the former basketball coach at Brown University and new coach at Oregon State University; and Barack's half sister, Maya Soetoro-Ng. Their job is to tell the story of Obama's roots. That he was raised by a single mother, was a disaffected teenager who none the less got into Harvard Law School and became editor of the prestigious Harvard Law Review, and turned down lucrative job offers to become a community organizer in Chicago.
House Speaker and convention co-chair Nancy Pelosi will address the gathering, as will Missouri Sen. Claire McCaskill, an early Obama supporter.
Tuesday: Hillary's Turn
Former Virginia governor and current U.S. Senate candidate Mark Warner will deliver the convention's keynote address on Day Two. Virginia hasn't been in the Democratic presidential column since 1964, but Obama hopes to change that trend this year, perhaps with a down-ticket boost from Warner, who holds a commanding lead in his race.
But the highlight of the evening is likely to be the speech of Hillary Rodham Clinton, whom Obama edged out for the Democratic nomination and whose supporters are still smarting over her loss. The theme for Tuesday is the party's new direction for energy and economic policy. The question for the Obama campaign will be whether it can count on the energy of Clinton's supporters. Clinton herself is likely to call for party unity against John McCain, and it will be interesting to see the reaction from her backers.
Wednesday: Biden's Debut
Wednesday night's theme is listed as "securing America's future," but a figure from the party's past, former President Bill Clinton — whose support of Obama has been tepid at times — will have his turn to speak. The evening's other speakers, including the 2004 nominee, Sen. John Kerry, will highlight "a new, tough foreign policy approach that is neither Republican nor Democratic."
That dovetails nicely with the major speech of the night, from Obama's newly minted running mate, Sen. Joseph Biden. Biden is chairman of the Senate Foreign Relations Committee, and his expertise on foreign policy matters was presumably one of the reasons Obama chose him. (Biden recently traveled to Georgia at the request of that country's president, after the Russian invasion.) Biden is also well-known for his verbosity. It will be fun to watch whether his speech can be contained within the bounds of the TV networks' primetime coverage.
Thursday: Obama's Big Night
On its final night, the convention moves from the Pepsi Center over to Invesco Field, the outdoor home of the NFL's Denver Broncos. The theme will be "change we can believe in," as Obama will deliver his acceptance speech before an audience expected to measure some 75,000 people. It comes on the 45th anniversary of the Rev. Martin Luther King Jr.'s famous "I Have A Dream" speech, in which the civil rights leader spoke of his vision for a colorblind society.
Obama is well aware of the historical parallel. In an interview with USA Today last week, Obama said his address will be an opportunity for "taking pride in how much this country has transformed itself in my lifetime." He called it "a remarkable thing, perhaps unequaled in modern history. I don't think we have to shy away from the significance of that."
Obama will deliver his address from the 50-yard line of the football field, surrounded by more than 300 first-time delegates, "everyday Americans and BarackObama.com contest winners," according to the party's Web site. Preceding Obama will be former Vice President Al Gore, the party's nominee in 2000.
The GOP's Denver Defense
While the spotlight will be on Democrats during the coming week, Republicans will be hanging around Denver, too, with a well-coordinated campaign to counter Obama.
Dubbed Not Ready '08, the GOP effort includes two prominent former competitors of McCain, Rudy Giuliani and Mitt Romney. They'll be giving TV interviews from a studio within walking distance from the Democrats' convention site, and attacking Obama's proposals on national security (Giuliani) and the economy (Romney).
McCain himself will be appearing on The Tonight Show Monday.
And on Friday, as Democrats depart Denver, McCain is widely expected to announce his running mate at a big rally in Dayton, Ohio.