Tenn. Radio Pioneer 'Janie Joplin' Has Died
Tenn. Radio Pioneer 'Janie Joplin' Has Died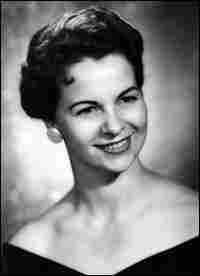 Radio pioneer Vida Jane Butler, known on the air as "Janie Joplin," died last week at 84, after a battle with Alzheimer's disease.
Butler was an announcer on WHER in Memphis, Tenn., in the 1950s. The station was billed as the "First All-Female Radio Station." Record producer Sam Phillips came up with the idea for the format.
Butler said the name "Vida" was considered too old-fashioned and too Southern for WHER, where she worked as an announcer and a copywriter.
Later, Butler used her talent and wit to create radio commercials. She was nominated for a Cleo Award, the highest honor in advertising.
During WHER's 17-year-run, Butler would sign off with a phrase that her family says could have been her personal motto: "Be good and you'll be happy!"