Delegates Offer Advice To Boost Obama's Base
Spncer Platt/Getty Images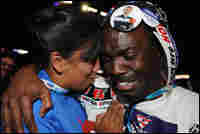 Robyn Beck/AFP/Getty Images
Now that the Democratic Party is working overtime trying to pull itself together in support of Illinois Sen. Barack Obama — in Denver, at least — the challenge for the presidential nominee will be to preach beyond his adoring choir.
On Thursday night he will give his acceptance speech at a football stadium, Invesco Field at Mile High. It's a literal and symbolic move toward taking his message to a broader audience. In the days and weeks after, he will continue his appeal to the rest of the country to get elected in November.
Along the way he must find ways to satisfy the skeptics and sway the swing voters. He must form a more perfect union of support.
At the Democratic National Convention, loyal Democrats are offering advice to their new leader.
In a stairwell at the Pepsi Center, Rep. John Lewis of Georgia paused for a moment as he moved from well-wisher to well-wisher. "Barack Obama has got to appeal to the people who are still disaffected," said Lewis, who endorsed Hillary Clinton's presidential bid before switching sides and joining Obama.
In dealing with all voters, Lewis said, Obama "has to reassure those people they will be included and that there's room for them under the Democratic tent. Make them feel at home." Sincerity is the key, he added.
Democrats Profess Unity
Some Democrats took pains Wednesday night to show that after a long, bitter primary fight they are united behind their nominee. One of the most compelling moments was when Hillary Clinton moved to offer Obama the nomination by acclamation. Bill Clinton followed not long thereafter with his strongest speech to date in Obama's behalf.
Gov. Christine Gregoire of Washington says more support will be on the way once he leaves Denver. He "is not alone in convincing naysayers inside or outside of his party that he should be president," Gregoire said. "We are united strongly behind him."
Looking toward the general election "there are two issues that Barack Obama really has to deal with," said North Carolina Gov. Mike Easley, "the economy and the war in Iraq. People want out of this war. As soon as possible. And they want a new direction for the economy."
Those concerns present a structural problem for John McCain, the presumptive Republican presidential nominee, Easley says. McCain wants the U.S. to stay in Iraq and believes that the domestic economy is fundamentally sound. Obama, on the other hand, wants to end U.S. involvement in Iraq. And, Easley says, Obama links education and economic development. "That should bring swing voters his direction. At least in my state of North Carolina."
The North Carolina Challenge
North Carolina hasn't voted Democratic in a presidential election since 1976. Democrats have some hopes of making inroads there this year.
But Hiawatha Foster, a delegate from Charlotte, acknowledges that it will be an uphill fight. "Obama's agenda is change," she said. "People don't always like change."
Foster works as a student motivator at Myers Park High School. At the convention, she was decked out in an American flag turban, a white pantsuit and a stars-and-stripes blouse. Obama, she said, needs to persuade independents, fence-sitters and apathetic voters to give him a chance. "He needs to say to everybody, 'Try me, digest me. If I'm no good for four years, then elect somebody else.' "
The Election As A Marathon
As the convention reaches its closing-ceremony peak, there are echoes of the recent Summer Olympics in China. The election is a marathon. The backdrop for Obama's speech at Invesco Field will be ornate columns, reminiscent of the ancient Greeks. He will be looking for the Golden Mean in the American electorate.
The Democrats in Denver understand that he is, after all, the unknown quantity in the equation. McCain has been around for years. His personality as a maverick is well-documented. Obama is the new pol on the block.
Delegate Charlton P. Hornsby, an attorney from Beaumont, Texas, sported a blue vest spotted with historic political pins invoking John F. Kennedy and Lyndon Johnson. Of Obama, Hornsby said, "His persona is such that people are going to be attracted to him, to what he has to say. If you can see him and hear him speak, he's very persuasive. So I hope he gets out and sees more people and more people hear him."
Obama gets his first chance to do so in a big way Thursday night. In a big way.