GOP Wants To Turn Minnesota Red With RNC
GOP Wants To Turn Minnesota Red With RNC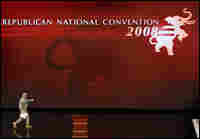 The Republicans are meeting in the Twin Cities this week, in part because they have hopes this year of capturing the purple-hued upper Midwest.
Michigan, Wisconsin and Iowa regularly swing between the parties, but Minnesota may be a tougher fight. The state has voted Democratic in every presidential election since 1976, but people forget that the Republican Party started in Wisconsin or Michigan — depending on whom you talk to — and some old-time Republicans still cling to the early days.
At the Republican Party booth at the Minnesota State Fair, Dr. Richard Swenson is helping to hand out stickers and lawn signs. He says that Republicans in this part of the country are different — less devoted to the military, for example, than their southern counterparts.
"In Minnesota, Wisconsin and the Midwest, we are 'La Follette Republicans,'" he says.
He's referring to "Fighting Bob" La Follette — a Wisconsin populist of a century ago, who was skeptical of big business and friendly to unions. This is a brand of Republicanism that's long gone from the Midwest. For most of the 20th century, Minnesota Republicans were quiet, Chamber of Commerce conservatives. But that changed in the 1980s.
Charting Republican Rise In The State
Watching the action at the Republican booth is Larry Jacobs of the University of Minnesota's Humphrey Institute.
"What's changed is that over the last 20 years or so, you've seen the influx of social conservatives and a more hard-edged style of politics, and a take-no-prisoners view on taxation," he says.
Throughout the 1990s, Minnesota Republicans made gains in the state Legislature by capitalizing on voter resentment over the state's relatively high taxes — a strategy that culminated with the 2002 election of Republican Gov. Tim Pawlenty.
Pawlenty was re-elected in 2006 and was reportedly on Arizona Sen. John McCain's short list for a vice presidential pick. The Republicans' anti-tax strategy was working, but some thought they'd gone too far.
Dean Johnson was a Republican leader in the state senate; but in 2000, he switched to the Democrats. He says he grew up in a very different Republican party.
"They were middle of the road, wanted government to work, to be accountable using the taxes in the most efficient way, but they also knew government had a place," Johnson says.
The Republicans' small government philosophy took a hit last summer, when a major Minneapolis bridge collapsed into the Mississippi River. It gave Democrats the momentum to override the governor's veto and pass a gas tax increase to pay for better roads and bridges. But Republicans continue to believe that the anti-tax message is the key to power in Minnesota. Party chairman Ron Carey admits the state is traditionally Democratic.
"You talk to people and they say 'My dad was a Democrat. My dad was a granddad. I guess I'm a Democrat,' as if party affiliation was something passed on from generation to generation," Carey says.
But he says that time and demographics are on the side of Republicans.
"We're seeing a lot more people moving into Minnesota as a growing state and people coming from other walks of life," he says. "They don't have that same tradition, and even people who grew up in Democratic households are starting to make that transition."
Minnesota Still A Toss-Up State
Back at the state fair, political scientist Larry Jacobs says Republicans are not about to dominate Minnesota politics, but neither are the Democrats.
"Minnesota is often described as a purple state," Jacob says. "But I think that's misleading. The truth is — Minnesota's a polka-dotted state. And what decides elections are the 15-to-20 percent of nonaligned voters who move back and forth."
Ten years ago, those nonaligned voters handed the governor's election to a former wrestler named Jesse Ventura. This year, Republicans are hoping those same independents will go for the "maverick" charms of John McCain and give Republicans their first presidential win in Minnesota since Watergate.