Obama Attacks McCain's Strength, Weakness
Obama Attacks McCain's Strength, Weakness
Democratic presidential nominee Barack Obama made history Thursday night by accepting his party's nomination for the presidency. He's the first black American to hold such a major party nomination. To the cheers of an estimated 84,000 people at Denver's Invesco Field, Obama said America has had "enough" of broken politics and doesn't want John McCain to continue "the failed policies of George W. Bush."
STEVE INSKEEP, Host:
It's Morning Edition from NPR News. Good morning. I'm Steve Inskeep. Barack Obama's convention speech last night reflected a truism of modern politics. You don't just attack an opponent's weakness. You attack an opponent's strength. A famous example came in 2004, when Republican denounced John Kerry's reputation as a war hero. Last night, Barack Obama was defending himself against attacks and also questioning one of John McCain's perceived strengths. It was McCain's experience on national security issues. NPR's Don Gonyea was watching the speech at a stadium in Denver.
DON GONYEA: The crowd had been in place for hours, gradually filling the massive Invesco Field over the course of the afternoon. They cheered speeches by former Vice President Al Gore and others and they danced in their seats to live musical performances by the likes of Motown great Stevie Wonder. But when Senator Barack Obama finally stepped onto the stage, the place lit up.
(SOUNDBITE OF 2008 DEMOCRATIC NATIONAL CONVENTION, AUGUST 28, 2008)
(SOUNDBITE OF APPLAUSE)
BARACK OBAMA: Thank you, everybody.
GONYEA: The joyous reception in part reflected the historic nature of the evening, on the 45th anniversary of Dr. Martin Luther King's I Have a Dream speech. Here stood Barack Obama, an African-American, uttering the following words.
OBAMA: With profound gratitude and great humility, I accept your nomination for presidency of the United States.
(SOUNDBITE OF APPLAUSE)
GONYEA: In his speech, Obama set about the task of defining just why the country needs change in the White House. He spoke of an economy where more Americans are out of work and more are working harder for less.
OBAMA: These challenges are not all of government's making, but the failure to respond is a direct result of a broken politics in Washington and the failed policies of George W. Bush.
(SOUNDBITE OF APPLAUSE)
OBAMA: America, we are better than these last eight years. We are a better country than this.
GONYEA: Obama said that electing John McCain will mean more of the same.
OBAMA: We are here because we love this country too much to let the next four years look just like the last eight.
(SOUNDBITE OF APPLAUSE)
OBAMA: On November 4th - on November 4th we must stand up and say, eight is enough.
GONYEA: Obama predicted that at next week's Republican convention, Senator McCain will highlight his independent streak and the times he's broken from his party.
OBAMA: But the record is clear. John McCain has voted with George Bush 90 percent of the time. Senator McCain likes to talk about judgment, but really, what does it say about your judgment when you think George Bush has been right more than 90 percent of the time?
GONYEA: Last night, Senator Obama's strongest attacks on McCain came in the area of national security. He said John McCain deserves respect for wearing the uniform of the country with bravery, a reference to McCain's time as a POW. But Obama questioned McCain's judgment on the Iraq war and other matters.
OBAMA: You don't defeat a terrorist network that operates in 80 countries by occupying Iraq. You don't protect Israel and detour Iran just by talking tough in Washington.
GONYEA: And Senator Obama directly confronted what has long been a Republican line of attack on Democrats - that they are weak in national security.
OBAMA: We are the party of Roosevelt. We are the party of Kennedy. So, don't tell me the Democrats won't defend this country. Don't tell me the Democrats won't keep us safe.
GONYEA: Looking out of the huge crowd, Obama spoke of the journey he has taken since declaring his then underdog candidacy 19 months ago. His name and his background make him, quote, "not the likeliest candidate for this office."
OBAMA: But I stand before you tonight because all across America something is stirring.
(SOUNDBITE OF APPLAUSE)
OBAMA: What the naysayers don't understand is that this election has never been about me. It's about you.
(SOUNDBITE OF APPLAUSE)
GONYEA: It was a speech with high expectations, and judging by the audience response, Obama met them. Afterward, at an appearance before a gathering of backers, he acknowledged that next week in Minneapolis, Republicans will turn the tables and have their share of fun at the expense of Democrats. But then, he said, the battle will be on for the final intense two months of the campaign. Don Gonyea, NPR News, Denver.
NPR transcripts are created on a rush deadline by Verb8tm, Inc., an NPR contractor, and produced using a proprietary transcription process developed with NPR. This text may not be in its final form and may be updated or revised in the future. Accuracy and availability may vary. The authoritative record of NPR's programming is the audio record.
Obama's Acceptance Pledge: Fix 'Broken Politics'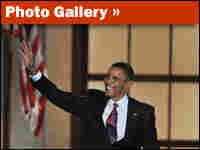 Audio Highlights
Read transcripts and hear audio from some of Thursday night's key speeches:
Justin Sullivan/Getty Images
Stan Honda/AFP/Getty Images
Sen. Barack Obama accepted the Democratic Party's presidential nomination Thursday with "profound gratitude and great humility." The historic moment was witnessed by a packed football stadium in Denver and an audience of millions watching and listening at home.
Speaking for some 45 minutes, Obama said his Republican opponent, Sen. John McCain, "doesn't get it." He responded to criticisms of his celebrity and outlined a list of programs he would enact, all with the soaring oratory for which he is known.
Obama said the nation was at a defining moment, "a moment when our nation is at war, our economy is in turmoil and the American promise has been threatened once more."
He blamed "the broken politics in Washington and the failed policies of George W. Bush. "America, we are better than these last eight years," he said. "We are a better country than this."
Obama thanked his rival for the nomination, New York Sen. Hillary Clinton, whom he called "a champion for working Americans and an inspiration to my daughters and to yours." Obama also praised former President Bill Clinton, saying he had made the case for change Wednesday night "as only he can make it."
Talking Tough, Targeting McCain
It was a celebratory atmosphere at Invesco Field, near downtown Denver. Convention delegates and Obama supporters filed into the 75,000-seat stadium throughout the afternoon and sat under the sun, listening to musicians including Stevie Wonder, will.i.am and Sheryl Crowe. Volunteers signed up unregistered voters, and vendors did a brisk business in Obama T-shirts and pins.
Obama was preceded to the stage by former Vice President Al Gore, who narrowly lost the 2000 race to President Bush. Gore said he knew something about close elections and said the 2000 election was close "because defenders of the status quo are desperately afraid of the change Barack Obama represents."
Speaking from a podium built over the football field, Obama outlined a list of proposals, answering calls for specific plans to address the ailing economy. Countering charges from the McCain camp, Obama emphasized he would "cut taxes for 95 percent of all working families. Because in an economy like this, the last thing we should do is raise taxes on the middle class."
For the sake of the economy, he said, he would "set a clear goal as president: In 10 years, we will finally end our dependence on oil from the Middle East." However, he did not explain how.
Much of Obama's speech was devoted to taking on his Republican opponent. He said McCain "doesn't get it."
Attempting to tie McCain to unpopular President George W. Bush, Obama said that next week, at the Republican convention in St. Paul, the "same party that brought you two terms of George Bush and Dick Cheney will ask this country for a third. And we are here because we love this country too much to let the next four years look like the last eight. On Nov. 4, we must stand up and say: "Eight is enough."
Obama served up tough talk on national security issues. He said McCain "stands alone in his stubborn refusal to end" what he called the "misguided war" in Iraq.
"If John McCain wants to have a debate about who has the temperament, and judgment, to serve as the next commander in chief," Obama said, "that's a debate I'm ready to have."
'America, We Cannot Turn Back'
The historic nature of Obama's candidacy, the first African-American to receive a major party's presidential nomination, was a theme of the night.
Obama, the son of a white Kansan mother and a black Kenyan father, delivered his acceptance speech on the 45th anniversary of the Rev. Martin Luther King Jr.'s "I Have a Dream" speech, in which the civil rights leader outlined his vision for a colorblind society.
Rep. John Lewis of Georgia, the only person still alive of those who spoke with King that day, told the crowd, "With the nomination of Sen. Barack Obama tonight, the man who will lead the Democratic Party in its march toward the White House, we are making a down payment on the fulfillment of that dream."
Obama referenced the "Dream" speech, calling King a young preacher from Georgia: " 'We cannot walk alone,' the preacher cried. 'And as we walk, we must make the pledge that we shall always march ahead. We cannot turn back.' "
"America, we cannot turn back," Obama said. "Not with so much work to be done. Not with so many children to educate, and so many veterans to care for. Not with an economy to fix and cities to rebuild and farms to save. Not with so many families to protect and so many lives to mend. America, we cannot turn back. We cannot walk alone. At this moment, in this election, we must pledge once more to march into the future. Let us keep that promise — that American promise — and in the words of Scripture hold firmly, without wavering, to the hope that we confess."
After the speech, Obama was joined on the podium by his wife, Michelle, his two young daughters, his running mate, Joe Biden, and Biden's family.
Confetti rained down, and the sky was lit up with fireworks.
The Democratic ticket will campaign over the next three days in the key swing states of Michigan, Ohio and Pennsylvania.
McCain, meanwhile, has a rally scheduled Friday in Dayton, Ohio, in which he is expected to announce his running mate. McCain appeared in a TV ad Thursday night in which he congratulated Obama on his nomination.
"Sen. Obama, this is truly a good day for America. Too often the achievements of our opponents go unnoticed. So I wanted to stop and say, 'Congratulations,' " McCain says in the ad.
"How perfect that your nomination would come on this historic day. Tomorrow, we'll be back at it. But tonight, senator, job well done."