Phelps Cashes In On Olympic Gold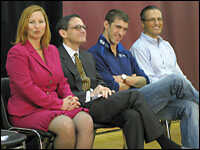 Michael Phelps took quite a big haul home from the Beijing Olympics, with eight gold medals. Now he's looking at another big take: millions of dollars in endorsements.
Phelps made an appearance Thursday in New York to promote a swimming program for inner-city kids. The event was sponsored by Visa, one of seven companies with commercial ties to the swimmer.
Phelps' agent says he could end up earning $100 million in endorsements.
But fame has been fickle for many past Olympic champions — which raises the question of how long Phelps' time in the commercial spotlight will last.
Phelps thinks his case can be different. He says he hopes to give the sport of swimming a higher profile.
The sport has changed so much already and people are already looking at the sport differently than they were before," Phelps said.
"So I think that opportunity that I have now is something I really have to take advantage of, to really grab more people's attention and bring them into the sport."
That's what Phelps was doing Thursday. After the press conference was over, he climbed into the pool to teach some kids to swim.