Arrr! The Oxymoron That Is Radio Cartooning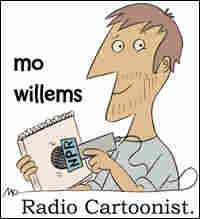 Mo Willems has wanted to be a radio cartoonist since he can remember. Lots of cartoonists, he said, want to make it to print publications. But inspired by New York City Mayor Fiorello LaGuardia, who read comics on the radio in the '40s, Willems wants to take his art to the airwaves.
The first time the children's book illustrator and author tried cartooning on the radio, he admitted some listeners came up with some pretty good captions. For this installment, he submitted a pirate drawing. And if there's something we can all agree on, it's that you can't go wrong with pirates.
Below, you can check out Willems' intended caption and some of the captions you submitted.
Listener Submissions
"I told him when he lost that other eye to get rid of those guns!"
Lisa Vetioe, Kingston Springs, Tenn.

I'm not surprised he shot himself in the foot ... it was how quick he reloaded that got me.
Will Arduino, Granby, Colo.

"Why's he gotta be so competitive?"
Jack Ferraiolo, Amesbury, Mass.

I know, I know. It's a bit over the top ... but he's big on symmetry.
Bill Smith, Highland Heights, Ky.

Well, at least the shark had a well-balanced meal.
Andrew Neal, Chapel Hill, N.C.

Ever get the feeling you're only half the man you could be?
Michael Li, Colorado Springs, Colo.

Do you think he needs to be taken down a peg or two?
Grace Slaughter, Birmingham, Ala.