McCain's Circuitous Route To GOP Nominee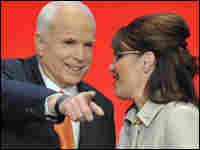 Unlike his running mate Sarah Palin, Sen. John McCain is no stranger to the American public. And yet, his remarkable life story is only partly known.
NPR's Tony Cox takes a look at how McCain arrived at the pinnacle of his political life.
His guests include Delbert Spurlock, retired General Counsel of the Army; Max Fose, McCain's former driver before becoming his Internet manager in the 2000 campaign; Frank Gilliam, dean of public policy and political science at UCLA; the Rev. Oscar Tillman, president of the Phoenix, Ariz., branch of the NAACP; and Republican activist Princella Smith.