Anti-War Protesters To March As McCain Speaks
Max Whittaker/Getty Images
Max Whittaker/Getty Images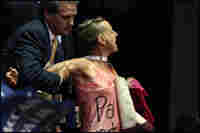 Justin Sullivan/Getty Images
MICHELE NORRIS, host:
The final night of the Republican Convention means it's the last chance for protesters in the Twin Cities to get their voices heard. An anti-war march is scheduled for this evening and police are bracing for possible confrontations. Every day of the convention, there has been some sort of clash. At least 440 people have been arrested so far.
NPR's Robert Smith reports on a debate over who's responsible for the friction.
ROBERT SMITH: At the beginning of the week, it was clear what the protesters were angry about.
(Soundbite of chanting)
Unidentified Group: We support war resisters. They're our brothers. They're our sisters. We support war resisters.
SMITH: Roughly 10,000 people attended an anti-war march that wound its way through downtown St. Paul, but the message got lost in scattered instances of violence. Some protesters broke windows. Nearly 300 people were arrested after police used teargas to control the crowd.
This morning, the anarchist collective that's been organizing the protest finally spoke publicly.
Andy Fahlstrom is with the group called the RNC Welcoming Committee. In front of a crowd of his supporters, he said that any violence in the streets should be blamed on the overwhelming police presence around the arena.
Mr. ANDY FAHLSTROM (Spokesman, RNC Welcoming Committee): Did any of the protesters shoot rubber bullets at the police?
(Soundbite of applause)
Mr. FAHLSTROM: Did any of the protesters fire concussion grenades at human beings? I think that the questions here are way off.
SMITH: The questions being asked are about whether the anarchist group plotted to do more than protest at the convention. Police raided the group's headquarters over the weekend. The police say they had informants in the group who reported plans to kidnap convention delegates and disrupt the convention.