Restored 'Gates of Paradise' Head to the U.S.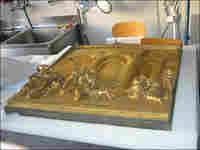 They're called the "Gates of Paradise," and after more than 25 years of painstaking restoration, Lorenzo Ghiberti's gilded-bronze masterpieces might just be fit for heaven.
The sculptor's original door panels, which were completed in 1452 for Florence, Italy's baptistry, are some of the most beloved works of Renaissance art.
Biographer Giorgio Vasari wrote that Michelangelo himself remarked that "they're so beautiful they would grace the entrance to paradise."
But they haven't been seen publicly since they were brought into the city's conservation and renovation center. Five hundred years of outdoor exposure left the enormous, golden doors — each one is 16 feet high and two tons — dirty and damaged.
Cristina Acidini, superintendent of Florence museums, says it took scientists years to determine the nature of the damage and the best remedy — a salt bath. Researchers also pioneered specially designed laser beams to clean difficult-to-reach areas of the intricate reliefs.
The craftsman behind the magnificent works was himself a pioneer. Ghiberti was a goldsmith, sculptor, architect and one of the first artists to write an autobiography, but he revealed little about his craftsmanship.
It was only through the restoration process that researchers learned that the massive door frames were cast in a single piece, likely in a large hole dug in the ground.
Scholars agree that Ghiberti used a long-lost technique developed by the ancient Romans where a wax model is placed inside a fire-resistant mold. After molten bronze is poured in, the wax melts.
Three of the ten restored panels will travel to the U.S. this month. One of the three-foot panels depicts the creation of Adam and Eve in four separate episodes: God waking up Adam, Eve emerging from sleeping Adam's rib, the temptation with a serpent circling a tree trunk and the archangel ordering the couple out of the garden. The other two panels illustrate the biblical stories of Jacob and Esau and Saul and David.
After the Gates of Paradise go on view in Atlanta, Chicago and New York, they'll be placed in a Florence museum in a specially designed and hermetically sealed glass case.