Alan Ball Re-Emerges With Vampires, 'Towelhead'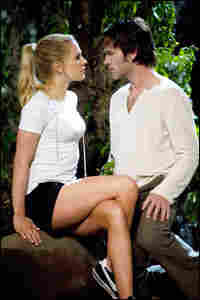 It's a big week for Alan Ball, the creator of the critically acclaimed death-obsessed series Six Feet Under. After several years out of the spotlight, his two major projects — the film Towelhead and HBO series True Blood — are emerging within a week of each other.
Like all Ball creations, both are dominated by the theme of sex.
Towelhead focuses on the story of 13-year-old Jasira, who goes to live with her strict Lebanese father in Houston during the Gulf War. There, she encounters racism, as well as a neighbor, played by Aaron Eckhart, who is eager to take advantage of her innocence.
"Between being on the receiving end of racism and totally inappropriate attention from an older man, it's the story of a young girl who does not have proper role models in her life," Ball tells Madeleine Brand. "She gets in situations that are pretty traumatic and abusive."
Ball sees his film as more of a tale of empowerment than victimization, unlike other tales of abuse.
What happens to Jasira resonates with him personally, he says, because he was abused when he was young. He also watched as his sister was killed in a car crash when he was just a teen.
The Council on American-Islamic Relations has has urged Ball to change the title of the movie, which is the same as the title of the novel by Alicia Erian that inspired it. Using "towelhead" — a racial and religious slur against Muslims and Arab-Americans — in this way, the organization maintains, will only serve to increase its use.
Ball says he searched for a better title but couldn't come up with one.
"Ultimately, I feel like if you ban the use of such words — it's an unintended consequence, but those words are imbued with that much more power," he says.
Similarly, his new show, True Blood, is about discrimination ... against vampires. He sets up a world in which vampires are outcasts fighting to have the same rights as humans.
"There's an anti-vampire church. They show up holding up a sign that says, 'God Hates Fangs,' " Balls says, laughing.
Vampires are often a metaphor for sex, and in Ball's show it's no different. Sex and death — the themes that dominated Six Feet Under — emerge yet again, but this time with fangs.
Related NPR Stories
Web Resources