Ex-Firefighter Relives Yellowstone's 'Black Saturday'
Ex-Firefighter Relives Yellowstone's 'Black Saturday'
Second of a five-part series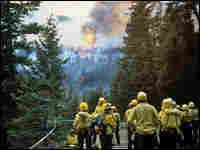 Michael Stuckey/National Park Service
A Series Overview
Alice Kreit/NPR/National Park Service, Yellowstone.net
The mention of "Black Saturday" at Yellowstone National Park brings back memories of Aug. 20, 1988, when immense fires swept across the park, burning more than 150,000 acres. That morning, weather reports warned of severe weather: high winds, low humidity and extreme fire behavior. Firefighters across the park were told to be extra cautious.
Michael Stuckey remembers the day vividly. He's now an interpretative ranger in the Eastern District of Yellowstone National Park. But in 1988, he and other firefighters had been brought in from Hawaii to fight the Clover Mist Fire, which was burning on the park's eastern boundary.
The team had hiked two miles from their base camp into the forest to cut fire lines. On Aug. 20, through the din of chainsaws, they could hear their fire lookouts yelling for them to head to the safety zone.
Stuckey distinctly remembers the noise. "When the chainsaws stopped, it was supposed to be very quiet," he says. "What we heard were several trains coming toward us."
The firefighters reached their safety zone, a widened natural meadow, and discovered that the fire was quickly moving toward themy. They had chosen this area because they knew the fire would eventually jump over and burn behind them. But the biggest concern wasn't being burned in the safety zone — it was the fear of a flashover, which would result in a lack of oxygen.
For about 90 minutes, the firefighters worked to fortify their position. But as the heat rose and the winds increased, they had to give up and move to the very center of the safety zone.
Stuckey remembers feeling like he was sweating smoke. "The embers were so thick, we couldn't breathe," he recalls. "And our chemically treated clothing — our fire-retardant clothing — was actually catching fire."
The firefighters deployed their fire shelters — also known as "shake and bakes." These emergency tents, similar to a heavy aluminum foil, are used as a last resort. At one point, the air temperature around them reached 130 degrees. For five hours, the firefighters sat there, waiting for the fire to move past them. Finally they received the order to get up, repack and walk out.
For Stuckey, the scene that greeted them as they hiked back to their camp was reminiscent of the classic Smokey Bear poster — nothing but black sticks in the background. He and his colleagues made it back to the camp, shaken and exhausted. The next day, everyone was evacuated by helicopter. The Clover Mist fire, one of seven major fires burning in the park, would eventually consume more than 140,000 acres by the end of that summer.
Reported and produced by Laura Krantz.