Paying Homage To The Wrights' Military Plane
Paying Homage To The Wrights' Military Plane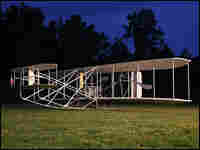 Courtesy of Special Collections and Archives at Wright State University
In 1908, the Wright Brothers signed a contract with the Army to build a military plane.
When the plane was ready for its first public test flights, Orville Wright put the new aircraft on a train from Dayton, Ohio, to Fort Myer, Va.
The trials went well at first, but a propeller came apart, causing Orville to lose control and crash. Lt. Thomas Selfridge, aboard the plane as an official observer, was the first person to die in a powered-aircraft crash. Orville was also badly injured, and the flight trials were put off until the next summer.
Now, 100 years after the birth of the first military plane, The Wright Experience of Warrenton, Va., has built a reproduction of the Fort Myer Flyer. It's the centerpiece of a Centennial of Military Aviation Celebration at Fort Myer on Sept. 6.
The plane will be on "static" display, with test runs for the engine, but it will not take to the air, although company founder Ken Hyde says it is airworthy. But when Orville flew, there was a great deal more open space around the parade grounds. A present-day flight wouldn't be safe.
And times have changed. When the Wrights signed the contract, five years after their triumph at Kitty Hawk, it said simply the flying machine must carry "two persons with a combined weight of 350 pounds," and travel 40 mph "under perfect control and equilibrium." It was to fit into a wagon and be ready to fly within an hour.
All the specifications fit onto a single sheet of paper, which could be called the birth certificate of the United States Air Force.
For the trials at Fort Myer, Orville brought two mechanics, but for the first time he was separated from his brother Wilbur, who was demonstrating another aircraft in France. And then the accident happened.
Orville Wright broke a leg and some ribs and had a long convalescence at Fort Myer before returning to Dayton, under the care of his sister Katharine, who had left her schoolteaching job to help.
The next summer, Orville returned with a new plane and easily completed the Army's speed and distance trials, even reaching an altitude of 400 feet — a world record.
As for the reproduction, The Wright Experience's Hyde says perhaps someday they'll find a spacious green field in the Virginia countryside for the 1908 Fort Myer Flyer and imagine themselves in the air with Orville, flying an American military plane for the first time.
Correction
Sept. 8, 2008
Some versions of the story described a re-created Wright plane "that flew at the Kitty Hawk anniversary in 2003." That plane failed to take off.