Google's Chrome Taps Browsers' Cash Potential
Google's Chrome Taps Browsers' Cash Potential
Google is taking on Microsoft's ubiquitous Internet Explorer with a new browser called Chrome. Technology commentator Mario Armstrong tells Renee Montagne that it's an easy to use, open-source browser that has a long way to go before it could oust Explorer as the No. 1 browser.
But there's room for more than one Web browser, he says, because each has distinct features that appeal to different users. And browsers present "tremendous revenue opportunities" for companies.
Google's 'Shiny' New Web Browser
Top Five Web Browsers By Market Share

Internet Explorer – 72.2 %
Firefox – 19.7 %
Safari – 6.4 %
Opera – 0.74 %
Netscape- 0.72 %
Source: Net Applications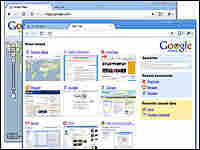 When Google unveiled its new browser on Tuesday, it was touted as a faster and more reliable experience for those using the Web for everything from e-mail and word processing, to music and video.
The new open-source browser, Google Chrome, is an alternative to programs like Internet Explorer — which enjoys a 72 percent market share, according to Net Applications, and is pre-loaded on many PCs — as well as Firefox, Safari and Opera.
Here, some first impressions about what the Google Chrome experience offers.
Why has Google created a new browser?
"We're moving towards a Web-centric world, where the operating system means less and the browser means more," says Tom Spring, a senior writer for PC World magazine. The growth in the number of people using Web applications spurred Google to develop Chrome over the last two years.
"We saw an opportunity, given how much the Web has evolved, to rewrite the browser from scratch," says Sundar Pichai, Google's vice president for product management. The goal, he says, was to create a simple, yet powerful user experience with no interruptions: "The user should enjoy surfing the Web, and the browser should stay out of it."
Many applications that people now run in their Web browsers, such as Google Maps, require intensive processor power. Chrome is designed to help handle this and to prevent crashes by effectively segregating each open browser window into a distinct "sandbox." This unique setup is also advantageous from a security perspective, because Chrome will prevent a rogue Web site from reaching into your computer by keeping any activity restricted to the browser, Spring says.
Google posted a comic book on the Web to help explain Chrome, which can be downloaded and used with any search provider.
Dan Bogaard, an associate professor of information technology at the Rochester Institute of Technology, says Google is "almost begging other companies to use what they're doing. They're actually just trying to drive the Internet into a new place — a place where applications reign, rather than individual pages."
To create Chrome, Google says it relied on open source projects already developed by Mozilla in addition to WebKit — the engine behind Apple's Safari browser.
How will the look and feel of Chrome differ from a Google search as we know it?
Lightning fast speed and intuitive design are just some of the advantages, according to Spring.
"It has an elegant simplicity to it in its design, reminiscent to what Apple does," he says.
One of the real pluses is that the browser enables you to create application shortcuts on your desktop. With this feature, Chrome "attempts to blur that line" between Web applications and desktop applications, Spring says.
The centerpiece of Chrome is the tab, which is now located at the top of the browser. If one tab is loading a page, a user can switch to another tab to continue work without waiting. Similarly, if one tab crashes or freezes, you can close that tab without affecting other open tabs. This helps to keep memory jams from bogging down the computer or the whole browser. Google has also created a task manager, so you can monitor which sites or plug-ins are using the most memory.
The new real estate for tabs makes them stand out like a folder in a file cabinet. They also can be moved around just as easily. The size of the tabs also adjusts based on how many are open in the browser, but the "x" for closing the tab remains in the same spot on each one, so you can quickly close many of them without moving your mouse. You can also drag a tab out of the browser to create a new window.
When you open Chrome, the default page brings you to your nine most visited sites, giving the page a customized look and feel. It also displays your search history and recent bookmark selections.
One user-friendly feature is that the search and address window have been combined. Now there's just one box, and it has become a center of power — just starting to type any letter in the alphabet will bring up suggestions. These are culled from bookmarks (Chrome automatically imports bookmarks and passwords from your existing browser) and from popular searches that begin with that letter. This allows you to type in just a few letters — for example "n" and then "p," and NPR.org automatically comes up.
It's easy to bookmark pages in Chrome, but it's not a necessity. Chrome maintains full text searches in its history. If you've already searched for "elephants at the national zoo," Chrome will take you back to the page you found the first time you ran that search. With popular search sites like Amazon, Google and others, you can also run a search right from the address bar by typing the first letter of the site. Once Chrome recognizes it, you can hit the tab key and enter your search terms.
When will it launch, and will it be accessible on all types of operating systems?
Google launched a beta version of Chrome for Windows on Tuesday. The company said it is developing versions of the browser for Mac and Linux. Bogaard says the "beta" designation is worrisome because of the company's history of keeping everything in test-mode for long periods. A case in point: Two popular programs, Gmail and Google Docs, still have beta labels. "Beta scares a lot of people away," he says.
What kind of privacy safeguards are part of Chrome?
Google says that Chrome "continually" downloads lists of troublesome Web sites that engage in practices — including malware distribution and phishing — that could compromise data on your computer and warns you if you encounter one of them.
Chrome also has a privacy feature that users can summon called the "incognito" window, which enables users to browse the Web without creating any record or history on their local computer. When the window is closed, any cookies are also deleted. Spring says that users should be aware that this does not amount to "surfing anonymously."
During Tuesday's press conference, Google officials said that they hoped this feature would help prevent people from deleting the history on their computers, since Chrome works best when there is a record of searches.
Spring says that when it comes to privacy, consumers should keep their eye on what Google decides to do with Chrome going forward. Google has a record of tracking user searches and selling ads against that, he says, and now they have the ability to track what you do with your browser.
"They will own your experience from the moment that you launch the browser to the time that you shut it down," Spring says.
What implications does this have for other browsers?
John Lilly, the CEO of Mozilla Corp., said in a recent blog post that Google's entry into the browser universe "increases" competition, because it provides users with "another interesting browser" to choose from. He says Firefox "will keep getting better."
Bogaard says Chrome doesn't represent a threat against Firefox (Google has agreed to provide funding to Mozilla through November 2011), but he says the introduction of Chrome signals mounting competition with Microsoft, which plans a new release of Internet Explorer soon.
Internet Explorer has been "laying stagnant for a couple of years" without many updates, he says. Microsoft's Web site says its update — Internet Explorer 8, which is only available now as a test version on its Web site — will be "faster, easier and safer than ever."
In the meantime, Chrome has some bugs to fix. Spring says it doesn't support the very popular collection of extensions that Firefox users enjoy, and there isn't a print preview function. But he says it's too early in development to take them to task for a browser that "shows a lot of promise from the get-go."