For 'The Women,' A Cut-Rate Reno-vation
The Women
Director: Diane English
Genre: Drama
Running Time: 110 minutes
PG-13: Scenes of sexuality, strife and women drinking tea together.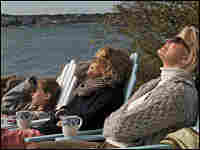 First came Sex and the City, then Mamma Mia! — and now, following in their high-heeled footsteps, comes a third star-studded Hollywood comedy aimed at women of a certain age.
It stars Meg Ryan and Annette Bening, and it's called The Women — which was also the title of an earlier version of the same story, made by director George Cukor in 1939. And despite the best efforts of an able cast, the new film's only virtue is that it allows critics to talk about the old one.
Now, let's be clear. Clare Booth Luce's snarky satire was always a blunt instrument — a chisel, rather than a scalpel, for the dissecting of a woman's place in society. The Broadway stage play caused a sensation in 1936 and was quickly snapped up for a Hollywood remake.
Not because it was great writing, or even great thinking, but because it was good trashy fun. Luce (and screenwriter Anita Loos) filled the frame with backbiting harpies who gossiped, scratched, pulled hair and generally took great delight in destroying one another's marriages. Joan Crawford, the 1939 version's first homewrecker among equals, pretty much summed things up with her last line: "There's a name for you ladies, but it isn't used in high society, outside of a kennel."
That same joke is the first line in the new version, which is otherwise so lamely written that leading with a snappy stolen one-liner qualifies as putting this script's best foot forward.
That image occurs to me because feet are all over the new film's opening credits: The names of the stars get matched not with their faces but with shots of their Jimmy Choos, which effectively Sex and the City-izes them before they've so much as opened their mouths. Harpies no longer, they're sitcom-style Carries and Charlottes, enormously supportive of each other, although in ways that are not always helpful.
Meg Ryan plays the nongossiping, innocently contented wife at the center of the story, who discovers her husband is having an affair with a salesgirl and who tries to tough it out without listening to her friends.
It's the part originally played by a syrupy Norma Shearer, and Ryan thins the syrup a bit by being perky as well as sweet.
Problem is, she's surrounded by women who are only marginally less perky and sweet — and who are no longer silly, vacuous, society women but career gals with high-powered jobs, big salaries and responsibilities.
Behind 'The Women,' A Formidable Dame
A couple of them, in fact, come across more like the real Clare Booth Luce than like the satirical airheads she created as characters. And Luce was not an airhead.
In addition to her playwriting career, she became a hard-driving journalist, an ultraconservative congresswoman, a controversial ambassador and a crusading anti-Communist. The lady was ferocious, not flighty, and when she created heroine Mary Haines in The Women in 1936, she did not create a doormat.
Mary told her mother that it was "all right for you to talk of another generation, when women were chattels and did as men told them to, but this is today. Stephen and I are equals." That line meant a lot in the 1930s, when equality was far from established; American women had only persuaded men to let them vote in the previous decade.
Luce, of course, knew that she was joking when she created the harebrained, grasping, avaricious creatures that one of her characters called "she-males." But to make sure the audience got the joke, she made them wildly overstated, silly, fluttery and comically delighted at their dependence on men.
Luce continued writing into the 1970s, and though it's hard to imagine her liking the update that's been done on her best-known comedy, she wasn't above doing updates herself. Her final play was inspired by Ibsen's A Doll's House; she called it Slam the Door Softly, and in it, she had frustrated wife Nora not just walk out on her husband but demand that he give her "severance pay."
Old-fashioned? Sure — but more cleverly framed than any line, in any scene, of the new update of The Women.