Classical Teens, Superstar Sparkle In Boston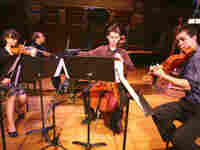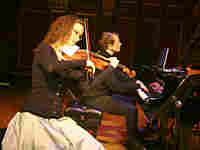 From Boston's New England Conservatory, an 18-year-old pianist plays Chopin, a teen string quartet performs Beethoven and the renowned violinist Hilary Hahn collaborates with young musicians who are around the age she was when her concert career took off.
Although many of today's teen pianists look up to young piano phenoms such as Lang Lang, Deborah Yeung, 18, says her role model is pianist Vladimir Ashenazy. She admires the way he pays attention to detail while never losing sight of his larger musical vision.
A recipient of the Jack Kent Cooke Young Artist Award, Yeung performs the Grand Polonaise Brillante by Frederic Chopin.
The musicians of The Harlow Quartet first got together at the Greenwood Music Camp in Massachusetts. During their last summer at the camp they tackled one of the most daunting works ever composed for string quartet – Beethoven's Grosse Fuge (Great Fugue).
"I was quite intimidated by the idea of playing it," admits the group's violist, Paris Ellsworth.
"Our coach came up with the idea, and we got really excited and nervous because not a lot of quartets take on this piece," explains violinist Hillary Ditmars.
Ditmars and violinist Jennifer Charness, 17, started playing together in a "baby string quartet" at the New England Conservatory when they were around eight, and all four members of the group have been going to the Greenwood camp for years.
Rounding out the quartet is cellist Jonah Ellsworth. Paris and Jonah are brothers.
"It really is like all of us are siblings," says Charness. "All four of us are very, very close."
The Harlow Quartet plays "Allegro molto e con brio" from Beethoven's Grosse Fuge. At the end of the program, guest artist Hilary Hahn joins three of the quartet members to perform the third movement from the Piano Quintet in A, Op. 81, by Antonin Dvorak.
Violinist Hilary Hahn might well be the perfect adult guest artist for this show, and many From the Top teens consider her a hero. She was only ten when she entered Philadelphia's Curtis Institute, and despite a hugely successful international career, she is still young enough to remember what it was like to be a teenage classical musician.
Before collaborating with the show's young musicians, Hahn and host Christopher O'Riley perform the second movement from Charles Ives' Sonata No. 3.
Cellist Branson Yeast began his musical adventures with the piano.
"I started piano when I was really young, but I was really bad and never practiced," he recalls. "I was more interested in playing video games."
When Yeast was in fifth grade he remembers being inspired by a cellist in a group of string players visiting his school.
"She played Over the Rainbow in the high register and the Theme from Jaws low on the C string," says Yeast. "I thought it was so cool that cellos had that range." The musician who inspired him soon became his first cello teacher.
Now a serious cellist and a recipient of the Jack Kent Cooke Young Artist Award, the talented 18-year-old Yeast is preparing to enter the Curtis Institute next year. He is also one of Hilary Hahn's biggest fans.
"I've always loved her musicianship, and some friends and I even created a fan page on Facebook for her," he says.
In performing with Hahn, on From the Top, Yeast got to live out one of his dreams. Yeast, Hahn and O'Riley play the third movement from Franz Schubert's Piano Trio No. 1, in B-flat, Opus 99.
From The Top Interviews Hilary Hahn
Violinist Hilary Hahn's own history might well make her the perfect adult guest artist for this show, and many From the Top musicians consider her a hero. She was only ten when she was noticed as a gifted violinist and entered Philadelphia's Curtis Institute, and even though Hahn is an internationally renowned performer and recording artist, she is still young enough to remember what it was like to be a teenage classical musician.
Here, Hahn answers some questions about her life and the state of classical music today, and offers advice to young performers:
People often talk about classical music losing relevance amidst today's chaotic and technology driven world. What are your thoughts about the state of classical music today and where it's going?
I think that's all a bunch of hooey. What I see is people finding a new freedom in their exploration of all genres of music. Through the Internet and technology, anyone can now seek out any artist, composer or undefined niche of music they find interesting. All on their own, without even having to stand up or go anywhere.
We have to remember, despite – or perhaps thanks to – all of the hoopla about classical music's so-called demise, that this genre has a stronger grassroots following than many that are considered more mainstream. Who's building and filling 1200-seat-plus concert halls? Who successfully sells season subscriptions to concert series? Who boasts local organizations of performers, and concert presenters in nearly every town? Who brings groups of young musicians together to rehearse and socialize every week? Who's developed community-based, artist-driven outreach programs? Think about it: Classical music! Can jazz, bluegrass, indie rock, folk music, electronica, or hip-hop claim the same? We're lucky!
Yet, this isn't a competition; we should all be exploring as many genres as appeal to us, and we should support the growth of artists and artistic organizations – both within music and outside of it.
I can't tell you how many times I've heard from a non-classical artist, "You have it so good! Comfortable seats for your audiences, your own dressing rooms backstage, nice food, clean venues, great acoustics and quiet, attentive listeners – man, I wish I had that half the time." Maybe it's time to be more positive about all that classical music has accomplished, as well as its proven longevity.
As a young touring artist, what advice do you have for From the Top performers as they grow in their own careers?
What I've always been told by people who would know is, "Don't do anything before you're ready." This doesn't mean to avoid risks or not push yourself; it means to always be as prepared as possible for the next step. I agree with that advice.
As a young performer, what you need to be doing is building your technique and musicality, not promoting your abilities – unless you're ready to take on all that will result from such an approach. Once you start the ball rolling, it's very hard to stop it.
The two points that I always say are most important to a musician of any age are consistency and preparation. That doesn't sound like fun, I know. But doing a consistent amount of work every day and being prepared for everything that comes along will let you experience the most enjoyable elements of music-making. So, no matter how small the performance, always practice in advance as thoroughly as you can, and take the time to warm up and concentrate during the hours before you go onstage. If you've done all that and you're still unhappy with your performance, then there's nothing to be ashamed of; you did the best you knew how, and that's an accomplishment in and of itself. Be proud of yourself. With continued work, you'll figure out how to do better next time.
When did you know that you wanted to pursue a career playing the violin?
Once I'd met some musicians and heard some great recordings, I knew I wanted to see what I could do with the instrument. I never made up my mind to be a musician, though; I've always had a lot of interests and just figured I'd give music my best shot first. I put a lot of work and time into it. I wound up sticking with violin because it was the strongest current in my life. I've continued to pursue other interests in my downtime, but I'm glad I'm a musician. It's the perfect career for me.
If you didn't play the violin, where would you be right now?
Who knows what I would have done with the time I spent practicing if music hadn't been on my radar? I'm sure I would've been equally busy; I have a way of filling any free time with things I'm curious to pursue.
Early career daydreams were: fireman (at 3), astronaut (at 5 or 6), paleontologist (at 7), archaeologist, anthropologist and veterinarian. Now, I'm pretty sure I would have wound up as a visual artist or teacher. Or, maybe a lawyer. Or a social scientist. I'd definitely have spent a few years as a whitewater rafting guide – not a paddle guide but an expedition guide, on a raft with oars. I did a little training for that last summer and loved it.