Apes Will Choose Names for New Neighbors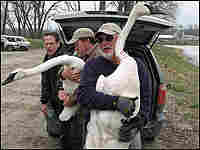 Bonobo apes living at a research facility in Iowa have new neighbors — and they're not the quiet type.
A pair of breeding trumpeter swans recently joined seven bonobo apes and three orangutans at the Great Ape Trust in Des Moines.
Besides being neighborly, the apes are expected to name their feathered friends. The bonobos, which have sophisticated verbal skills, will observe the swans on the facility's 30-acre lake. They'll either select names themselves or choose from a recommended list.
Scientists at the trust will tell the apes a list of names, watching how they respond to each option with gestures or their own vocalizations.
Scientists say that getting the bonobos involved in naming the swans is important because it gives the apes control over their environment.
Related NPR Stories
Web Resources