Will The Running Mates Matter This Year?
Remember all those times I told you that nobody votes for vice president, that it's the top of the ticket that really matters? Remember all those examples I gave you? Dan Quayle in 1988, widely ridiculed, a disastrous first impression, mocked in the VP debate by Lloyd Bentsen ... and yet the Bush-Quayle ticket that year took 40 states? Remember Geraldine Ferraro, whose nomination in 1984 elicited tears and excitement from the delegates in San Francisco, but who in the end couldn't prevent Walter Mondale from losing 49 states to President Ronald Reagan?
Well, don't throw out those old columns just yet. St. Paul is still just less than a week ago. And while I still say this thing will be decided by voters who want either Barack Obama or John McCain to be their next president, I can't say that I'm not shocked at how the conversation has been about just one candidate for vice president.
Hint: It's not Joe Biden.
No, McCain's selection of Alaska Gov. Sarah Palin was not the most surprising thing I've ever witnessed in politics. She was, after all, on most lists of prospective GOP running mates (check out the April 2 column), and she remained among the final Republican possibilities that appeared in my Veepstakes chart until her Aug. 29 selection. So it's not as if her name came out of nowhere.
Further, I never bought into the thought that McCain was really considering naming a pro-choice running mate, such as former Pennsylvania Gov. Tom Ridge or independent Sen. Joseph Lieberman of Connecticut. Whatever opportunities down the road McCain might have seen with independent voters and disaffected Democrats would have paled in comparison with the mutiny he would have witnessed in St. Paul. This is an anti-abortion party. What he needed, first and foremost, was a successful convention. And that he got with Palin.
What does appear unprecedented is the way her nomination has been received. McCain has managed to rally the conservatives who run the Republican Party (and who never particularly loved him) behind his candidacy — no mean feat. It's still early, but Palin continues to get a far louder reception on the campaign trail than the guy she's running with. (Scot Roberts of Reedley, Calif., suggesting that it's all about Palin, writes that McCain is "running on her skirt tails.")
The biggest head-turner of all has been the shift in female voters since Palin was named to the ticket. Before the Democratic convention in late August, The Washington Post/ABC News poll showed Obama with an 8-point lead among white women, 50 percent to 42 percent. Now McCain has that lead, and it's by 12 points: 53-41. Sixty-seven percent of this group views Palin favorably.
The election, which for the longest time was Obama's to lose, is now considered no worse than even (the USA Today/Gallup Poll goes even further, with McCain up among likely voters by 10). Republican Senate and House candidates, running for the longest time with their tails between their legs, are now exhibiting new confidence. All this, courtesy of Palin — her riveting convention speech, her "hockey mom" persona, her compelling family story, her effective "us vs. the elite" line that began with her speech in St. Paul. Anecdotal evidence suggests that many voters are dismayed by what they determine to be a concerted effort by the media to report whatever negative stuff they can find about her, with or without corresponding facts.
This shift in momentum may well be fleeting; it could come to a halt when Palin and Biden meet up in their VP debate Oct. 2 in St. Louis. It could end even sooner, when Palin faces a slew of media interviews, beginning with ABC's Charlie Gibson. And who knows what the media will find in Alaska with their nonstop drilling? Maybe it ends at the hands of the inexperienced Palin herself, who mystifyingly continues to talk about how she stood up to Congress over the infamous "Bridge to Nowhere," even though she was on record as favoring it before she opposed it. And there will be no shortage of reminders about the paucity of her record and that she will be, after all, a heartbeat away from the presidency should the 72-year-old McCain win.
Or she could propel the GOP ticket into the White House, a prospect that even the most loyal of Republicans thought laughable just a month or so ago. If nothing else, her selection has united the party and given them momentum going into the general election. This was not supposed to be an election with Republicans having momentum.
The selection of Lyndon Johnson as his running mate may have been what ultimately gave John Kennedy the presidency. That has long been looked at as the model for a successful VP pick. But Johnson was never the star attraction in 1960. Palin is, at least now, with just over 50 days to go before Nov. 4. This may have been a McCain Hail Mary pass, but like the one launched in 1984 by Doug Flutie to wide receiver Gerry Phelan, it was a completion. And Boston College won the game. Who'd a thunk it?
Answer to trivia question: Joe Biden is the Democratic nominee for vice president.
PREDICT THIS: We kind of had the feeling that, in picking running mates, one party would go conventional and one party would surprise everyone. We just had it backward. And yes, we did say the GOP would pick a governor and the Dems would name a senator from the East. Aside from that, everything else was wrong ... which is usually the case when it comes to our VP predictions: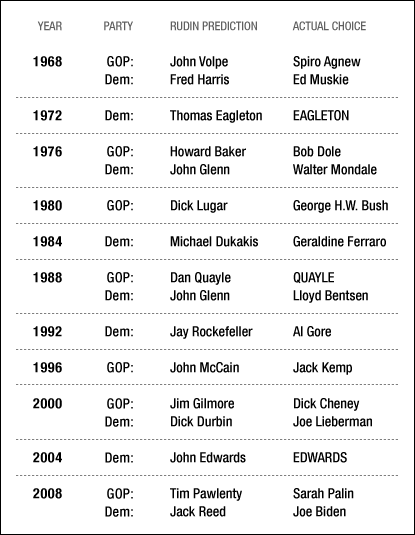 (For a historical look at VP picks, good and bad, see the Aug. 20 column.)

Time for some quick questions and quick answers:

Q: What's the likelihood that some of the vocal "former Hillary supporters" planning to vote for McCain are in fact Republican operatives? — Janet Lafler, Palo Alto, Calif.

A: It's certainly possible that some of these women were planning to vote for McCain all along. But many of the conversations I had with these Clinton delegates at the Denver convention were filled with real angst and disappointment. I don't for a minute believe reports that 25-30 percent of her supporters will bolt to McCain in November, but there is clearly a sizable number who are torn about what to do.

Q: When was the last time a sitting president and vice president both failed to appear at their party's convention? — Dave Petroelje, Grand Rapids, Mich.

A: That's easy: Bush and Cheney, 2008.

Oh wait, you probably meant before this year. That's a tough one. A recent trivia question on a Junkie Talk of the Nation segment pointed out that the last time a sitting president didn't show up was in 1968, when Lyndon Johnson thought better of adding to the bedlam in Chicago.

Presidents didn't personally attend conventions until Franklin Roosevelt showed up in 1936. Though I don't know for sure, I suspect that the last time both a sitting president and vice president failed to appear at a convention may have been the Democrats in 1940. I know FDR didn't appear, but I can't say with certainty that his vice president, John Nance Garner, was at the convention in Chicago in person in his bid to deny FDR a third-term nomination. Anyone out there know for sure?

Q: I am curious why you would put Pennsylvania as a tossup on your electoral map when Obama leads by 5 points. You should have it at least leaning Obama. I am surprised you are so willing to spin your predictions in such a partisan manner. It's so sad to see how NPR has become yet another conservatively biased news outlet. NPR = Fox-lite. — Greg West

A: I am curious why anyone who doesn't see things your way is dismissed as "Fox-lite." Obama may have had an aggregate 5-point lead in Pennsylvania, as our map shows, but those numbers are pre-convention. I would argue that things have changed — in the Republicans' direction — since St. Paul. Obama still has a problem with blue-collar white voters, and Democrats in Pennsylvania will tell you that. I see no problem being cautious in states like Pennsylvania, especially in a race that is so unpredictable. I also have Florida as a tossup, while most observers see McCain with a lead. Does that mean I'm biased about Pennsylvania but smart/wise about Florida?

For the record, I predicted Al Gore was going to win in 2000 because I thought he would carry Florida. I predicted Kerry in 2004 because I thought he would win Ohio. I wasn't any more a Dem hack then than I am a GOP hack in 2008. But I guess people believe what they want to believe.

Q: Why didn't President Harry Truman have a VP during his first term? — Ernie Suggs, Atlanta Journal-Constitution, Atlanta

A: When Truman succeeded FDR following the president's death in 1945 — just as when Johnson succeeded the slain Kennedy in 1963 — there was no constitutional mechanism for the establishment of a vice president. That didn't occur until 1967, the passage of the 25th Amendment, which said, "Whenever there is a vacancy in the office of the Vice President, the President shall nominate a Vice President who shall take office upon confirmation by a majority of both Houses of Congress."

That is how President Richard Nixon, following the 1973 resignation of his vice president, Spiro Agnew, was able to name a successor VP. That person was Gerald Ford, who became president after Nixon's resignation the following year — and who was able to name his own vice president, Nelson Rockefeller, courtesy of that same 25th Amendment.

KENNEDYS AND CONVENTIONS: A Junkie column, sans buttons, went out on Aug. 26, focusing on the history of the Kennedys and the Democratic conventions. You may not have received an e-mail notification of the column, but you can still read it here.

MEET THE CHALLENGERS: Back in 2006, we initiated this feature, asking you to send in campaign buttons for candidates for the Senate, House and governor. Our end of the bargain — aside from satisfying Ken Rudin's button craze, which is bordering on the unhealthy — would be to feature the candidates in a "meet the challenger" section.

This week: Marina Kats, a Republican running in Pennsylvania's 13th congressional district, and David Robinson, a Democrat in Ohio's 12th CD.

Kats, an attorney who came here from Ukraine in 1979, is trying to unseat two-term Rep. Allyson Schwartz (D) in the Philadelphia suburbs. Schwartz won the seat in 2004 when Rep. Joe Hoeffel (D) gave it up to take on GOP Sen. Arlen Specter. Kats is a success story: She arrived in this country with nothing but now has her own legal practice. She says winning the war in Iraq is "a necessity," calling for the return of U.S. troops only "when it safe to do so." She says a "premature departure would endanger the lives of our troops on the ground, hamper our long-term strategic goals in the region, and leave Iraq vulnerable to the machinations of lethal terrorist groups and Iran's nascent regional ambitions." On immigration, she says her priority is to "secure our borders" and calls amnesty for immigrants in the U.S. illegally a "mistake."
Robinson has an equally tough task, hoping to knock off Ohio Rep. Pat Tiberi (R) in the Columbus suburbs. Tiberi has been in the House since his first election in 2000, when he won the open 12th CD following the retirement of GOP Rep. John Kasich. Robinson calls Iraq a "war of choice" and an "act of aggression" and supports a "responsible but definite withdrawal of troops." A businessman and first-time candidate, his campaign seems most focused on climate change and energy solutions; he calls his plan the "Apollo II Energy Project." Robinson was among those who trained with Al Gore in Nashville on these issues.
Want to see your candidate's campaign button appear in the next column, and, at the same time, make Ken Rudin happy? Send your 2008 buttons to Political Junkie, 635 Massachusetts Ave., N.W., Washington, D.C., 20001.

ON THE CALENDAR:

Sept. 16 — Primary in Massachusetts, where Sen. John Kerry (D) is seeking a fifth term

Sept. 20 — Hawaii primary

Sept. 26 — First presidential debate, University of Mississippi in Oxford, 9 p.m. Eastern

Oct. 2 — Vice presidential debate, Washington University in St. Louis

Oct. 4 — Louisiana primary

Oct. 7 — Second presidential debate, Belmont University, Nashville

Oct. 15 — Third presidential debate, Hofstra University, Hempstead, N.Y.

Nov. 4 — ELECTION DAY

POLITICAL JUNKIE EVERY WEDNESDAY AT THE NEWSEUM: Some distressing news to report. Last Wednesday, the Political Junkie segment on Talk of the Nation (NPR's call-in program) came not live but via studio line from St. Paul. Same thing the week before, from Denver. Sadly, this week I'm back at the Newseum, in person, before the regular Wednesday live audience.

Want to be part of that audience? The tickets are free. And trust me, those sophisticated jokes you heard on the phone line from the two conventions are considerably funnier in person. Send an e-mail request to tickets@npr.org. The Newseum is located at 555 Pennsylvania Ave., N.W., off Sixth Street. (NOTE: The Oct. 8 edition of Junkie on Talk of the Nation will take place in Columbus, Ohio.)

Remember, if your local NPR station doesn't carry TOTN, you can hear the program on the Web or on HD radio. And if you are a subscriber to Sirius radio, you can find the show there as well (siriusly).

IT'S ALL POLITICS: I know, I know. We picked a bad time, Aug. 28, to not have a podcast. The truth is we did put one together in Denver, just after the Democratic convention had concluded. But by the time it was ready to go up, McCain had named Palin as his running mate, and it was quickly outdated. Then we did one before the first day of the GOP convention in St. Paul. That too became quickly obsolete, as our speculation about whether President Bush would show up or not sounded terribly dated. We finally did do one, last Thursday night, within an hour of McCain's acceptance speech. It can be heard here. And there will be a new one this week.

Hopefully, our listener will recover. Madeline Finch of Lawrence, Kan., said going without the podcast "just ain't right! I'm having serious withdrawal symptoms!"

Want to subscribe? It's easy, and it's free! Simply go to the iTunes Web site, type in "It's All Politics," and you're there.

*******Don't Forget: If you are sending in a question to be used in this column, please don't forget to include your city and state. *********

This day in campaign history: Reform Party presidential candidate Ross Perot announced that Pat Choate, a writer and economist who shared Perot's opposition to NAFTA, would be his running mate (Sept. 10, 1996).

Got a question? Ask Ken Rudin: politicaljunkie@npr.org