Texas Coast Evacuated Ahead Of Hurricane Ike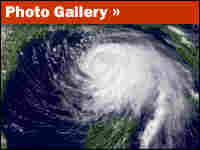 Massive waves crashed over the seawall in Galveston, Texas, on Friday, as Hurricane Ike bore down on the upper coast threatening to inundate coastal towns with a 20-foot wall of water and batter the country's fourth largest city with high winds.
More than one million residents of the upper Texas coast fled the massive storm, which forecasters warned could impact nearly 550 miles of shoreline. The National Weather Service warned those who did not evacuate that they were facing death from floods and a storm surge that could reach up to 25 feet.
Ike's eye was expected to strike somewhere near Galveston island late Friday or early Saturday before moving 50 miles inland toward Houston.
As of 5 p.m. EDT, Ike was about 135 miles southeast of Galveston and moving at 12 mph. The Category 2 storm was packing winds of 105 mph, but it was expected to strengthen to a Category 3 hurricane with winds of at least 111 mph by the time it makes landfall.
While residents of low-lying coastal areas were told to flee, Houston officials told residents to shelter in their homes in order to avoid the massive traffic jams that plagued the 2005 evacuation during Hurricane Rita. More than 100 people died during the exodus.
Ike was expected to make landfall early Saturday southwest of Galveston, a barrier island and beach town about 50 miles southeast of downtown Houston and the scene of the nation's deadliest hurricane, the great storm of 1900 that left at least 6,000 dead.
In August 1983, Hurricane Alicia came ashore on Galveston Island, killing 21 people and causing $2 billion in damage.
Meanwhile, 22 people were forced to ride out Hurricane Ike aboard a crippled freighter in the Gulf of Mexico. The nearly 600-foot ship called the Antalina sent a distress call early Friday after it broke down in the hurricane's path.
The Coast Guard said the storm's winds are too strong to try to rescue the crew by air and the waves are too high right now to send another boat.
Petty Officer Tom Atkeson said aircraft hauling rescue swimmers headed to the ship, but they were forced to land in Lake Charles, La.
The ship is about 120 miles southeast of Galveston, Texas.
From NPR reports and the Associated Press.