Amy Tan: Novelist Turned Librettist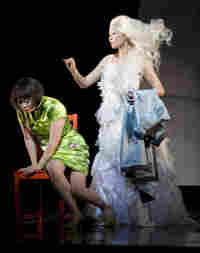 Novelist Amy Tan has turned The Bonesetter's Daughter into an opera, which premieres at the San Francisco Opera on Saturday. Transforming the book into a libretto wasn't easy for Tan, nor was resurfacing the painful stories of her family's past.
When composer Stewart Wallace began to travel to rural China with Tan a few years ago, they were in search of an answer to a question that had been haunting them: "What does it sound like for a ghost to talk to a living person?"
The question of how a ghost sounds, feels, moves and is brought back to life is essential to the opera, which Wallace and Tan created over the course of many trips to China.
Tan is known for novels that delve into Chinese-American life. Here, the pair was on a quest to bring the novel — and elements of Tan's own life — to the stage. Wallace would write the music, Tan the libretto. But she'd never written one before, and it wasn't easy.
"You know, the key was really to cut out the words and let the music stand for the emotions, because that's what opera is," Tan says. "It's music, it's performance, it's great voices. And the story was a framework in a way."
The Bonesetter's Daughter begins with three characters emerging from a mist. One is a Chinese-American daughter, like Tan; the second is a mother, like hers, born in China. The third is a haunted and haunting ghost named Precious Auntie. The three entities make their way through a fog and sing about the things they know to be true.
Fact And Fiction Intertwined
In the early 1920s, Tan's grandmother, a widow, stayed overnight on an island while visiting a family friend.
"The husband came in and he raped my grandmother," Tan says. "She then lost face: Everybody knew about this, her brother kicked her out. And she had a baby as a result of that, and then she killed herself shortly after the baby was born."
"In those days, when you killed yourself, you would come back as a ghost and often exact revenge," she says. "So it wasn't simply out of despair. It was definitely with the sense that you were going to come back with a different power."
Tan says she didn't know her grandmother had committed suicide until she was an adult.
Writing the opera, Tan and Wallace decided to give the grandmother power. But how, exactly, would the ghost, Precious Auntie, plot revenge?
Precious Auntie is a ghost of protection, but she also turns on her daughter, threatening to murder her with a dragon bone when the daughter declares that she will marry her own mother's rapist.
When Tan was young, she threatened to run away with a disastrous man, and her mother unraveled.
"She held a cleaver to my throat," Tan says. "I knew she could possibly do it."
She threatened to kill Tan, her brother and then herself and said "we're all going to go to where they went," referring to Tan's father and brother, who died within months of each other when Tan was 15.
"And I was so devoid of emotion," Tan says, "so I just said, 'Do it.' And suddenly I felt this voice — it was not me — I felt this voice come, and I heard the voice, and it said, 'I want to live, I want to live, I want to live.'"
A few months ago, Tan visited the island where her grandmother died — and where her mother was raised — which allowed her to exorcise some ghosts of her own. The visit and its unhappy legacy allowed Tan to more fully understand the suffering endured by her mother and grandmother.
Onstage, when the mother figure dies, the opera portrays her death gently and dramatically. The misunderstandings between mother and daughter also float away. On the mother's deathbed, she asks her daughter for forgiveness.