Gulf Coast Resident Provides Glimpse Of Hurricane
As the back end of the storm approaches the Gulf Coast, reporter Pat Dowell, a resident of Baytown, Texas talks with host Scott Simon about the situation near Galveston. She lives close to the Exxon oil refinery, one of the largest in the U.S.
SCOTT SIMON, host:
Pat Dowell occasionally files for NPR. She lives in Baytown, Texas. That's about half a mile from the waters of Galveston Bay. She chose not to evacuate that mandatory evacuation zone. She joins us on the line from her home. Pat, first, how are you?
PAT DOWELL: Well, we're fine. We're fine. But we've discovered that the back of the storm, which really started coming in about six - you know, during the eye it was deathly still for about an hour or so - when the back of the storm started coming through and the winds switched around to the opposite direction, we have found that it was a more violent storm. Really we've seen bigger gusts and longer gusts of really high winds, and a much wetter storm. So that now we have, you know, rain inches deep, two or three inches let's say, on sidewalks around the house, and so forth. And we haven't really because of the wind and rain been able to venture out terribly far in our cars, which we wouldn't get into anyway because they are blocked off by fallen trees.
And we've had many more trees fall since I spoke with you last and since the beginning of the storm. The back of the storm has seen many more trees come down. I have to admit that a lot of them in our neighborhood are in our yard because we had many old trees, 60, 70 years old. And none have hit the house or hit the cars yet, or hit neighbors' houses, I might add. But, you know, the city of Baytown shut down the sewage system yesterday because they don't want to take the chance of the water system becoming contaminated. So, we are not only without power since 11 p.m. last night, but essentially our water and sewage are cut off as well. I think we'll be shopping for a generator next time.
SIMON: And you're just a few blocks from what I'm told is the largest oil refinery in the United States. Can you see anything?
DOWELL: Well, we could see it much better at night because it lit up the sky, and actually provided an impressive backlight for all of the debris flying about. And this morning it's much harder to tell what's going on there. We haven't been able to walk over that far or to drive that far because the wind is still very, very fierce. And apparently we have another hour of this wind yet to go, and frankly it would be too dangerous because of the debris to walk out very far. So, all of the neighbors who stayed - and it's mostly the older neighbors who stayed because I think they have some experience with hurricanes, who have hunkered down - and basically we've kept in touch with each other by cell phones, which are still working.
SIMON: Now, you...
DOWELL: But I was sorry to hear that Brennan's has been destroyed downtown, and I was sorry to hear that there is extensive flooding all over Houston from news reports. And I imagine this will be a long time in seeing repairs done to Houston and the surrounding cities, the little cities like Baytown all around Houston, and especially around the Bay where the surge was.
SIMON: Thank you very much for speaking with us. We've got to go to some political news...
DOWELL: Ah yes, I'll have to catch up on political news myself.
SIMON: Pat Dowell in Baytown, Texas.
NPR transcripts are created on a rush deadline by Verb8tm, Inc., an NPR contractor, and produced using a proprietary transcription process developed with NPR. This text may not be in its final form and may be updated or revised in the future. Accuracy and availability may vary. The authoritative record of NPR's programming is the audio record.
Massive Hurricane Ike Batters Southeast Texas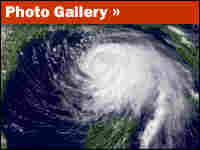 No Stranger To Disaster
The island town of Galveston, Texas, is haunted by the hurricane of Sept. 8, 1900 — to this day, the deadliest natural disaster in U.S. history.

Of the 38,000 people who lived in Galveston, at least 6,000 died in the storm.

In 2000, NPR talked with survivors in its Lost and Found Sound series.
Hurricane Ike plowed across Texas on Saturday, leaving at least one person dead after a tree fell on her mobile home in Pinehurst, 40 miles north of Houston. At least 3 million homes are without power.
The storm is the biggest to hit the Gulf Coast in recent memory; it affected a 500-mile swath of coastline along Louisiana and Texas. The storm struck early Saturday as a Category 2 storm, with winds clocking in at 110 mph. Winds slowed to 80 mph as the storm snaked inland.
Authorities struggled against the elements to asses the damage and help people. More than 1 million people evacuated Texas, but tens of thousands of people chose to stay. Emergency services said they were inundated with 911 calls and asked people not to call unless they were in a life-threatening situation. Police are working around the clock with skeletal crews.
President Bush said rescue teams were ready to move in and assist those who didn't evacuate as soon as it was safe to do so.
"The storm has yet to pass, and I know there are people concerned about their lives," he said from the White House after a video conference with Homeland Security Secretary Michael Chertoff and David Paulison, head of the Federal Emergency Management Agency.
Much of Houston is in tatters. Mayor Bill White said in a briefing that the water supply is low and people should use bottled water or boil water to avoid contamination. Several fires broke out as a result of downed power lines. A restaurant that was an institution in Houston for four decades was destroyed. Downtown is one of the few areas that still has power, but the winds shattered the eastern facing windows of at least one skyscraper.
By far the worst damage is in Galveston, the island southeast of Houston. Officials issues dire warnings before the storm; at one point they said people who stayed would face "certain death." Galveston is under mandatory evacuation, but as many as 40 percent of the residents there chose to ride out the storm in their homes.
The city manager said Friday that many people there underestimated the storm. One family made a last-minute escape from their house on a boat during the middle of the night. Many sited the evacuation three years ago during Hurricane Rita as their reason for staying: More people died during that evacuation than during the storm itself, and traffic jams left people in their cars for 20-plus hours.
People here say they are anxious about the impact the storm will have on the oil industry. Almost a fourth of the nation's oil is refined on the Gulf Coast. At least a dozen refineries closed down before the storm hit to avoid damage. High winds and flooding are still a threat to the refineries, and gasoline prices haven already risen.
In a statement on Saturday, Bush said the government would be monitoring gas prices to "make sure consumers are not being gouged."