James Baldwin, Taking a Hard Look at History
James Baldwin, Taking a Hard Look at History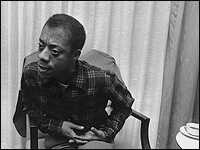 Philip Townsend/Hulton Archive/Getty Images
Lyman and Baldwin
James Baldwin, Taking a Hard Look at History
A Poet's Voice Rises from the Archives
A Poet's Voice Rises from the Archives
In 1986 Henry Lyman sat down with poet Robert Francis at the poet's home in Amherst, Mass.
A Poet's Voice Rises from the Archives
From 1976 to 1994, Henry Lyman hosted a public radio program called Poems to a Listener from member station WFCR in Amherst, Mass.
Through readings and conversation, Poems to a Listener took local — and eventually, national — audiences to intimate settings where poets such as Gwendolyn Brooks, William Stafford, Seamus Heaney, Yehuda Amichai and many others reflected on their lives, work and inspiration.
In one memorable broadcast, award-winning poet Robert Francis invited listeners into his wooded, one-story home in Amherst to hear works from his Collected Poems as well as some poems that would later be published posthumously in Late Fire, Late Snow.
"Home," he said, "is this little house in which I live, and much beyond it."
Francis and many of the other poets who brought life to Poems to a Listener have since died, but their work is still with us.
In recognition of National Poetry Month, All Things Considered will feature excerpts from the program throughout April.
Join us as we delve into Henry Lyman's archives.