Sammy Davis, Jr.'s 'Music, Money, Madness'
Listen to this 'Talk of the Nation' topic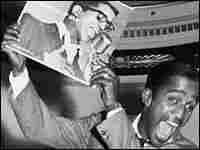 During his lifetime, Sammy Davis, Jr. served in World War II, fought racial segregation, converted to Judaism and made $50 million singing, dancing and cavorting with the Rat Pack. By the time he passed away however, Davis was impoverished and deeply in debt to the IRS. After his death, Davis' estate lost all rights to his name, image and music.
Investigative journalist Matt Birkbeck traces the rise and fall of Davis' fortunes in his biography, Deconstructing Sammy: Music, Money, Madness, and the Mob.
Excerpt: 'Deconstructing Sammy: Music, Money, Madness and the Mob'
A p r i l 1 9 9 4
The early spring sun cast an unusually warm embrace on the Hillside Inn. The weather in the Poconos was always tricky. One year could provide a final, heavy, wet snow in April or warm, suitable for golf, temperatures in December. For more than a hundred years, the Pocono Mountains, or what the locals called "rolling hills," tucked behind the Delaware River, provided a peaceful retreat for the not-too- distant city dwellers in New York and Philadelphia.
The train stopped running here twenty years earlier, but people still came by the carloads, following Interstate 80 west across New Jersey or north on the Pennsylvania Turnpike, and filled up all the local hotels and motels each weekend from fall through spring, and then every day during the summer.
The cold winter months provided plenty of snow for skiing at Camelback Mountain, Jack Frost/Big Boulder, and Shawnee-on-the-Delaware. And when the snows finally melted, there was golf, hiking, fishing, and other outdoor activities in the spring, summer, and fall.
Once upon a time, celebrities often came to the Poconos to play and to entertain. Jackie Gleason enjoyed a game of golf at the Shawnee Inn. Mount Airy Lodge, a sprawling resort known for its tacky, red, heart-Shaped tubs, drew blue-collar honeymooners willing to plunk down big money to bathe in overpriced, overgrown champagne glasses, and watch the likes of Tony Bennett, Alan King, Julio Iglesias, and Dionne Warwick perform in the Crystal Room. Other resorts, like the Tamiment, once hosted Woody Allen, Mel Brooks, Danny Kaye, and Carol Burnett. Sid Caesar and Imogene Coca perfected their act at the Tamiment
before they became a national sensation on Your Show of Shows in the 1950s. Two decades later, Pocono Raceway hosted performances by Bob Hope, the Osmond Brothers, and the Jackson Five, while in the 1980s Jay Leno and Jerry Seinfeld entertained audiences at the Caesar's resorts long before they became national celebrities.
But the circuit that drew the performers, which included stops in New York's Catskill Mountains and Atlantic City, New Jersey, soon vanished, after casino gambling was introduced in Atlantic City in 1980. Instead of performing for fees as low as $5,000 a night, the same top-name entertainers could bypass the Poconos and Catskills and earn $25,000 and more in one shot in Atlantic City. There was talk of bringing casino gambling to Pennsylvania, even a $50 million investment in a new resort by Jilly Rizzo, a restaurateur known for his close friendship with Frank Sinatra. But gambling never came, and as the talent pool evaporated, the resorts began to close. Only those with a dedicated clientele survived, such as the Hillside Inn.
The upcoming weekend was the first of the new season to welcome a full house for the thirty-three-room resort, and Sonny decided it was time to remove the dead weeds, trim bushes browned by winter snow-mold, and cut the emerging grass. Sonny had no problem with manual labor, something he learned as a child. A football player in high school, Sonny was muscular, his five-feet, ten-inch frame chiseled and hard. He worked out regularly, lifting weights, running, and playing tennis. Sonny pulled the rope to start the lawn mower and he proceeded to cut the grass in straight, horizontal lines in front of the indoor pool area when he noticed a woman and three men standing in a circle in the parking lot next door.
The woman was tall, thin, and black. She appeared somewhat disoriented, her head bobbing softly back and forth. Two of the men were white, one tall and large while the other much smaller, perhaps Hispanic. The third was a light-skinned black man, who appeared to be controlling the conversation. There was something odd about the men, but Sonny focused his attention on the woman. She wasn't talking. She just stood and listened as the animated black man continued to lead the conversation, which grew louder, then stopped, with the foursome entering a car and driving away.
Minutes later the car returned and it bypassed the parking lot and drove up the road and into the driveway of one of the thirty-six privately owned homes on the Murray property. The bi-level home belonged to Calvin Douglas, a retired New York City transit worker who settled here years earlier. Sonny could see the rear of the car hanging out from the driveway. His curiosity piqued, he turned off the mower and watched as a man exited the driveway onto the road, heading toward the Hillside. It was Calvin. A Jamaican immigrant who became fast friends with the Judge and Mama soon after moving to the Poconos in 1987, Calvin was a sprightly seventy-year-old and walked with a quick step. Sonny saw him waving, and then heard him yell out, "Sonny!"
Sonny pulled a handkerchief out of his back pocket, wiped his brow,
and then walked up the road.
"Mr. Douglas. How are you?"
"Oh, I've had better days," he replied, his voice punctuated by his
Jamaican accent.
"I saw those people drive into your driveway. Is anything wrong?"
"Well, that's what I want to talk to you about. That woman," Calvin said, pointing toward his driveway. "That's Mrs. Sammy Davis Jr."
Sonny smiled.
He heard whispers that Altovise Davis was living on the Murrays' property. No one knew why, and no one thought to ask Calvin about it, figuring if he wanted to tell people, he would have.
"Sonny, I didn't want to do this, but we need you. I can't take this anymore," said Calvin, desperation in his voice. "She's sick, very sick, and needs legal help."
Calvin told the story of how Altovise arrived at his home. Her father, Joe Gore, and Calvin became best friends working together for the New York City Transit Authority, and after Calvin moved to Pennsylvania, they remained in close contact. Whenever Calvin visited the city, Joe Gore and his wife, also named Altovise, provided him with a place to stay in their Queens home. During one visit in 1992, Calvin saw the Gores had another guest—their only daughter.
The Gores said Altovise was broke, their home the last stop before a homeless shelter. She lost all her possessions following Sammy's death in May 1990, including their Beverly Hills mansion, to pay off massive and unexpected debts. But the fire sale didn't come close to resolving the situation and the IRS was after her for back taxes, said Calvin.
Depressed and despondent, Altovise spent most of her waking hours in an alcohol-induced daze. Her preferred drink was vodka, and her drinking incensed her father, who threatened to kill her if she didn't leave. When Calvin arrived for one of his regular visits, Mrs. Gore tearfully begged him to take her daughter to live with him in Pennsylvania. Calvin agreed and he informed his wife a guest was arriving. When he returned home with Altovise, he brought her to an upstairs bedroom, where she remained hidden for days, venturing out only for trips to the liquor store to buy more vodka, which she stored in small mayonnaise jars that fit in her purse, and to answer phone calls from old friends.
"She asked Bill Cosby for help but he said he's not going to give her any money to buy liquor," said Calvin. "I've been trying to get her to go into rehab, but she won't go. She was in the Betty Ford clinic once before, but it didn't work," said Calvin.
"Does she have any money?" said Sonny.
"I don't know. She uses my car when she has to get around, and I have to give her five or ten dollars every now and then," said Calvin, nodding toward the men in the driveway. "She said she had jewelry, furs, a Rolls-Royce. That one guy, Al Carter, used to come by with some money in bags. He'd also bring her alcohol. Now they fly in from California and take money from her parents to pay for their bus ticket here. It's ridiculous."
Sonny looked over at the men.
"Who are those guys?" he said.
"That's her advisor, Al Carter, and his bodyguards. They were supposed to be taking care of her money after Sammy died. He calls every day and keeps telling her everything is going to be fine and not to worry, because it's only a matter of time before she gets her money back," said Calvin, "but I don't like them."
Sonny could see that Calvin was frustrated and couldn't do anything more.
"I don't know where the money is going to come from, but we need you, and we need to put her in rehab," Calvin said.
Sonny looked over at Altovise, who stood in the driveway, staring into the woods. She was thin and bony.
"How much does she owe?"
"I'm not sure. I know it's a lot. She often mumbles about having money hidden here, and personal items hidden there. Then she drinks more vodka and stumbles back into her room. Sometimes she stays there for days. I put my ear to the door and I can hear her groaning and gasping for breath."
"So there's no income from her estate?" said Sonny.
"There is no estate. Whatever she makes the IRS takes," said Calvin.
Sonny was alternately shocked and saddened. Sammy Davis Jr. was an international celebrity, a cultural hero adored by white America for his talent and loathed by a generation of black America for being just another Uncle Tom, a minstrel who forgot his roots. He even married a white woman, May Britt, to validate himself. Sonny shared this view, and like many other blacks he couldn't stand Sammy's music or his politics. "The Candy Man"? Awful song. Embracing Richard Nixon? Absolutely traitorous.
Sonny's parents, on the other hand, loved Sammy.
Sammy was, in the words of the Judge, a black man who learned how to "make it" in this white world, and the Judge respected any black man that could rise to the top of his profession. Sonny didn't agree, but he couldn't help but admit that Sammy was arguably the greatest entertainer of the twentieth century. He appreciated Sammy's immense talent, a polished triple threat of singing, dancing, and acting. Through his genius, the man became an entertainment icon, regularly mingling with presidents, kings, and queens. And Altovise, who Calvin said had been married to Sammy for twenty years, was right there with him, at his side, a living part of history.
It was a shattering, almost inconceivable fall, thought Sonny.
Sammy Davis Jr.'s wife living here, in poverty, in the Poconos?
"You can help her. You know this kind of stuff, working with finances and numbers," Calvin pleaded. "Sonny, you did it with Hutton."
Excerpted from Deconstructing Sammy: Music, Money, Madness, and the Mob by Matt Birkbeck. Copyright @ 2008 by Matt Birkbeck. Published in 2008 by Amistad. All rights reserved.
Books Featured In This Story
Deconstructing Sammy
Music, Money, Madness, and the Mob
Hardcover, 280 pages |
purchase
Buy Featured Book
Title

Deconstructing Sammy

Subtitle

Music, Money, Madness, and the Mob

Author

Matt Birkbeck
Your purchase helps support NPR programming. How?